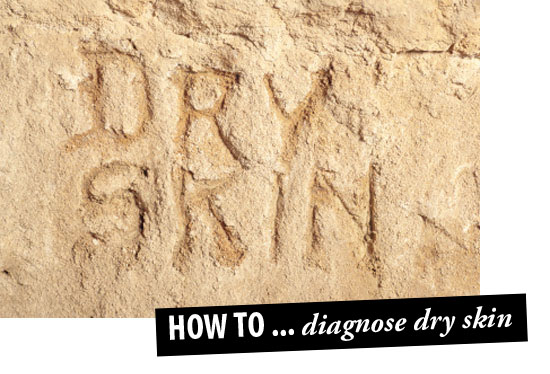 So, we looked at the clues to identifying an oil-slick skin yesterday, but how can you tell if your skin is dry? It can happen all of a sudden post-30 as we reach a biological marker, with the eyes often being the giveaway that our skin has changed.
Almost overnight, you suddenly see fine lines around the eyes, panic and shell out for expensive anti-ageing creams, when in fact, what's probably called for is a little extra hydration to moisturise skin and keep it looking plump and smooth – and that does away with those pesky fine lines all on its own. But dry skin can happen at any time, so, what are the other indicators?
A rough texture to look at and touch
Dull, lack-lustre skintone
Flaky patches
Makeup sitting badly on skin and clinging to dry areas
Feeling tight and uncomfortable
Fine lines
Treatment-wise, "dry skin lacks lipids," says Urbana's Paula Cuddihy, who adds, "you need to introduce them while taking the roughness off the skin, so again, Dermalogica Microfoliant is great." Look for creams with essential fatty acids as these will plump and hydrate skin from within - products with ceramides and peptides are a good bet.
Advertised
Personally, as a dry skin sufferer, I find oils a godsend and think they're the bees knees for this skintype. You can check out my feelings on Trilogy's fab rosehip oil, or check the link below for more recommendations.
TRY
Disclaimer: we can't diagnose your skintype for you as a) we can't see you and b) we're not professional beauty therapists or skin experts. Please take the above advice as general information which may help you to understand your skin a little better, and not the word of the law – everyone is different and what suits you may not suit someone else, and vice versa.