 Combining skincare with a faux glow, the St. Tropez Self Tan Bronzing Express Face Sheet Mask has just changed the tanning game
I may have mentioned it one or two or ten thousand times, but I'm a huge mask fan. For the past month, I've been using a mask practically every evening. Overkill, I know. Or is it? No, not when they do different things. And not when they're the  St. Tropez Self Tan Bronzing Express Face Sheet Mask, the wizard of masks.
As you know by now, sheet masks originated in Korea (I tried loads of them when I lived there five years ago) and they're all over the place now, making dewy-skinned mummies of us all. And now, just in time for tanning season proper, St. Tropez has combined the skincare qualities of the sheet mask with self tan. Revolutionary. Really, it is; St. Tropez is the first brand to do this and the UK patent is pending.
The formula contains a tanning serum that's been infused with the wonder ingredient to rule them all - Hyaluronic Acid. The mask moulds to your face's natural contours leaving you with a tanned, hydrated but streak-free, even finish.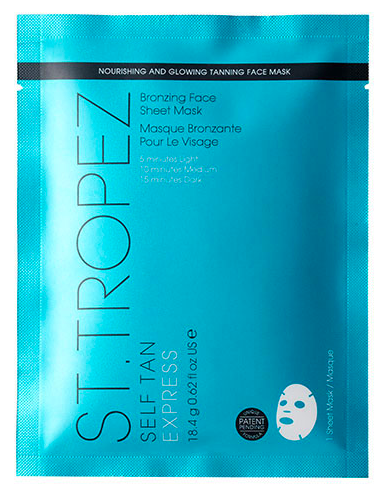 Advertised
In the same way that you can tailor the brand's Self Tan Express Advanced Bronzing Mousse to your shade preference (by leaving it for one, two or three hours before rinsing), you leave this for 5, 10 or 15 minutes, depending on your preferred colour intensity.
It's easy AF to use. Just drape it on your face and relax for 5 - 15 minutes, take it off and massage the serum with your fingers (don't forget your eyelids!). Oh, and don't forget to wash your hands after you apply the mask and after you rub in the serum.
I tried it and was left with a much healthier glow than my usual natural grey and dull. It doesn't stink of fake tan and it didn't transfer onto my pillow as I slept. I matched it to the Self Tan Express Advanced Bronzing Mousse and, guys, I can't ever use any other tans ever again.
The Self Tan Bronzing Express Face Sheet Mask is available now for €12.
Advertised