 You may remember the story of the dancing man who was fat shamed by a bunch of people at a night club simply for busting a move and having a bit of a dance. 
That man's name was Sean O'Brien, and after his story surfaced online, a bunch of people got together and decided that they were going to host a dance party for him so that he could show off his skills without any judgement. 
That party finally took place this past weekend in Los Angeles, where Sean was joined by thousands of people and a few celebs who provided the tunes, such as Andrew W.K., Moby and Meghan Trainor, and there was, as you might have guessed, plenty of dancing. He started his evening by meeting up with Cassandra Fairbanks and a few of the others who had organised the event in his honour. 
Thanks for having us @TODAYshow ! @Dancingmanfound @DanceFreeMvmt @JM_Couture @gudlyapp #dancefree #gudlyapp pic.twitter.com/LqGTf2hiiL

— Katy Dolle (@katydolle) May 22, 2015
He also caught up with Andrew W.K. who was on hand to enjoy the festivities.
It was a party... @BeatrizVNews @Dancingmanfound @DanceFreeMvmt @CassandraRules pic.twitter.com/Ly131Crd9P

— ANDREW W.K. (@AndrewWK) May 24, 2015
When the party kicked off properly, he was front and centre, busting a move with Meghan Trainor.
Adorable! @Meghan_Trainor breaking it down with #DancingMan! #MeghanTODAY pic.twitter.com/C8xxFv1RG1

— TODAY (@TODAYshow) May 22, 2015
Advertised
Later that evening it was the turn of Moby to hit the decks and spin a few tunes for the crowd.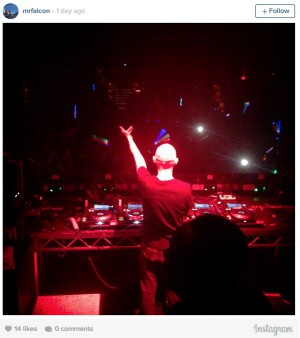 Monica Lewinsky also introduced the event and lent her support to the festivities.
At the #DancingManFound party @MonicaLewinsky is giving a talk now pic.twitter.com/M8S9X6F3qL

— Luke Rudkowski (@Lukewearechange) May 24, 2015
Dancing man also follwed up the party with a trip to a Dodgers game, where he got to throw out the first pitch too. 
.@Dancingmanfound is here...dancing. He'll also throw out the ceremonial first pitch. pic.twitter.com/EIjVlIdXZL

— Los Angeles Dodgers (@Dodgers) May 24, 2015
Speaking to ITV's Good Morning Britain, he said that it's been an incredible time for him, and "it's turned into the most wonderful journey...it's been simply life changing".
Advertised
Sometimes humanity just comes good. If you've any stories to share, we'd love to hear them!