 Not going to lie, one of the top three highlights of my wedding day involved someone coming up to me at the afters and saying "Great dress, is that Jenny Packham?" The day could've, and probably should've, ended right there. It was a perfect moment to end a perfect afternoon.
When the dress hunt commenced, about 4 months before the wedding, the internet was my bridal shop. There was going to be no 'say yes to the dress' type podium moment for me. I wasn't going to billow out of a dressing room, twirl in front of my loved ones with a glass of bubbly in my hand. The budget just didn't permit that. As it happens, my 'THIS IS THE DRESS' moment came when I wandered out of my bathroom with two sanitary towels acting as shoulder pads and a lump of toilet tissue playing the role of corsage. Myself and the sister have never laughed so hard, and I wouldn't change that moment for the world. Although some bubbly would've been nice…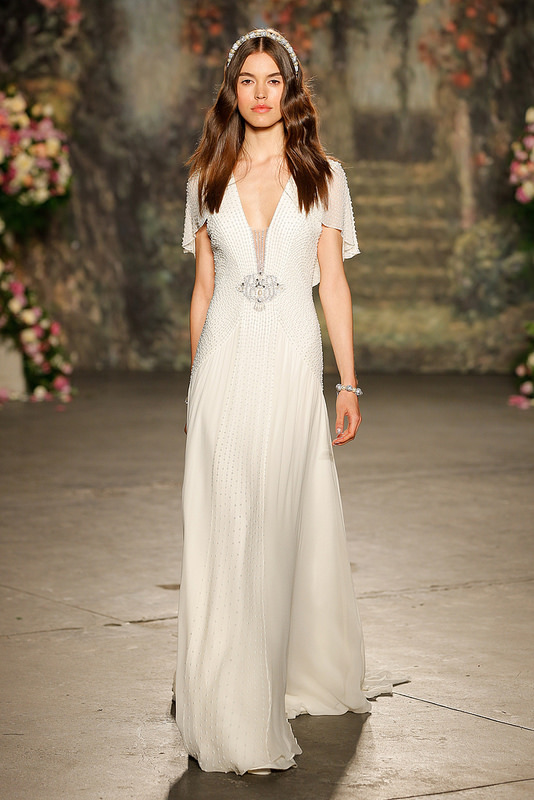 After trawling high and low, for a nice dress that would compliment a curvy figure, something forgiving on the upper arm, I stumbled across the sublime beauty that is Jenny Packham. Of course I was aware of her existence prior to this, but darn't even entertain the notion given €3,400 was pretty much half the entire wedding budget. Yet there I was, dazzled by elegantly cut lace, chiffon and sequins. Plunging necklines and delicately capped sleeves. Vintage boho loveliness with just the right smudge of old Hollywood glamour. I HAD TO HAVE ONE. Or, realistically, the closest thing to it. And this was it…


It was an Adrianna Papell dress, off the peg, from House of Fraser online. It cost just over €300, which isn't bad for something that's hand beaded and did - for all intents and purposes - pass for a Packham.
How did I happen across this fitting substitute? Pinterest. I searched for Jenny Packham, and it came up in all its loveliness. I teamed it with a Packham caplet from Debenhams and away I went. Obviously some alterations had to be made on account of my having the body shape of your average hobbit, but I found a reputable seamstress through word of mouth and she took the hem up, brought the neckline down and inserted actual shoulder pads for the grand total of €30.
Advertised
This post thus far as been focussing on Packham, but we'd like to think it's also possible to nab yourself the likes of Vera Wang or Zac Posen if you find their designs more covetable. Much like Packham has a affordable range for sale in Debenhams, Wang has an affordable array of Bridal dresses under the guise of her 'White' label. Unfortunately 'White' is currently only available via David's Bridal, which is based in The States. While the dresses are available to order online, they seemingly don't deliver internationally, so it may be worth calling in a favour from anyone you happen to know either residing in or visiting America anytime soon (it may not come to that, however... more on that shortly. Do keep reading)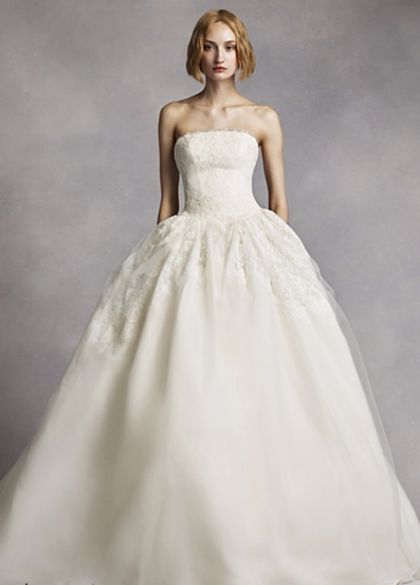 Given your average Wang wedding dress can cost upwards of €7,000, White By Vera Wang seems a bargain by comparison; most dresses cost $1,300 (roughly €1,700) on average - although some of the current 'sale' items are clocking in around the $400 (€360) mark.
Posen - a designer who enjoys lauding ladies with curves (sizes go up to a US 23) - also launched a more pocket friendly array of wedding attire last year, by the name of 'Truly Zac Posen', which is the designer's first foray into the bridal market. Wedding dresses cost in the region of $950 (€856), with bridesmaid's dresses costing approximately €200.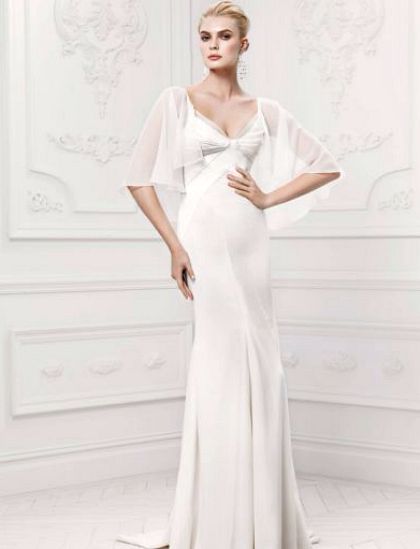 Again, 'Truly' is only available through David's Bridal, but where there's a will there's a way, right? Especially since David's Bridal recently opened a branch in London... City break, hen party and dress shopping all rolled into one, wha?!
Advertised
Are you currently wedding dress shopping? Have you been there and done that? Do you and your friends take turns pretending to be the bride-to-be and try on wedding gowns as a hobby? 'Cause we definitely don't do that...