 Baking at the weekend really chills me out. I need something yummy for when my family or friends pop over for a visit and I love the smell that fills the house. This weekend was my brother's birthday, so to prove my love for him, I made his favourite: banana bread. But, of course, it wasn't a normal banana loaf. I have a few staple bread recipes that I make time and time again, including a lovely banana oat bread but I fancied trying out something more special for the occasion.
I found this recipe on Instagram, Roz Purcell's Natural Born Feeder - she makes the most amazing fit food. You won't be let down, this is perfect for a healthy snack. It's nice and moist and flavourful too and for all you nutrition ninjas out there, it's super healthy. I ran out of peanut butter so I improvised with cashew nut butter instead and it still turned out great.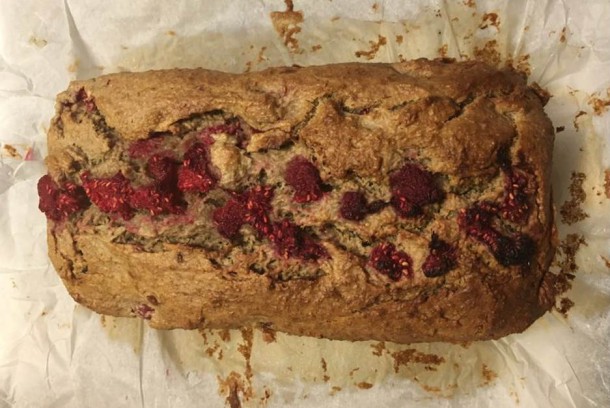 Peanut Butter Raspberry Bread – Natural Born Feeder Recipe
200g oats (gluten-free will work here also)
4 tbsp. peanut butter - (I used cashew nut butter as it's all I had at home)
3 large ripe bananas
3 tbsp. coconut oil
2 tbsp. maple or honey
½ tbsp. baking powder
3tbsp (50 ml) unsweetened almond milk
125g fresh raspberries
Method
Preheat oven to 180°C
Start by processing the oats into a flour (you can do this using a Nutribullet).
Place in a medium-sized mixing bowl along with the baking powder.
Melt the coconut oil and set to one side.
In a separate bowl, using a fork mash the bananas really well so there are no large bits visible, stir in the peanut butter, melted coconut oil and maple/or honey until fully combined.
Scrap the "peanut banana" mix into the oat flour bowl and stir until combined- the dough will be a thick and a little dry- now add in the almond milk and stir until a sticky dough texture is reached.
Advertised
Stir in the fresh raspberries and spoon into a lined baking tin or a silicone tin.
Place in the oven and bake for 50 minutes until golden brown and hard when tapped.
Remove and let sit for 30 minutes to set before digging in!
Once fully cooled store in an airtight container it will keep for 4 days.
I also experimented with a cookie recipe that worked out well. These are best kept in a lunchbox in the fridge and they are perfect for when you need a little sweetness  in your life!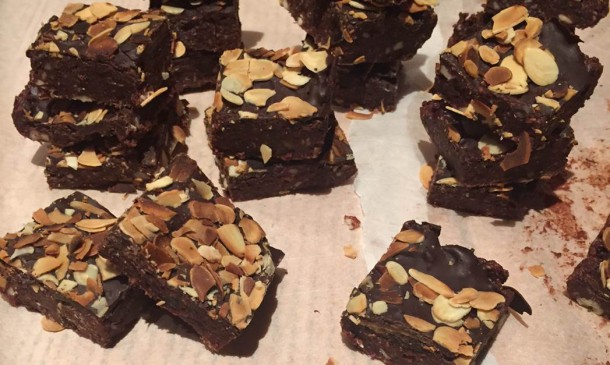 2 cups of dates (it's always good to soak these in boiling water for a few minutes before using, it makes them softer and easier to blend).
½ cup of ground almonds
1 cup of roughly chopped nuts (almonds/ hazelnuts/ pecans or whatever you like)
200grams of melted dark chocolate (use mint or orange chocolate if you want a flavoured brownie)
Method
Blend the dates. Mix all the ingredients together in a bowl. Press into a lined tin and let set in the fridge for an hour. So simple! I make these slightly fancier by covering in melted chocolate and toasted almond flakes but it's not necessary as they are yummy without a topping too.
Hope you love these as much as I do if you try them out. If you're like me, don't forget to set the timer or you'll burn all your hard work.
Until next week,
Fi x
Metabolic Fitness Trainer
Advertised