 If you are doing the weekly shop this Sunday evening in Lusk, do NOT, for the love of God, look into a fellow shopper's basket and ask where they got those juicy melons / huge sausages / organic breasts.
And whatever you do, I beg you to refrain from asking the butcher how to keep the loin moist and juicy.
For Supervalu in Lusk is holding what seems to be Ireland's first supermarket dating event. It's like speed dating with trolleys, a Supermarket Sweep-You-Off-Your-Feet.
I think this might be the future. Yes, we know that work is where a lot of us meet our significant others, and that online dating is carving out a strong position for itself in the love market. But I like multi-tasking. So meeting the love of your life while picking out which drain cleaner will remove the hairball from your shower, is an idea that really appeals to me.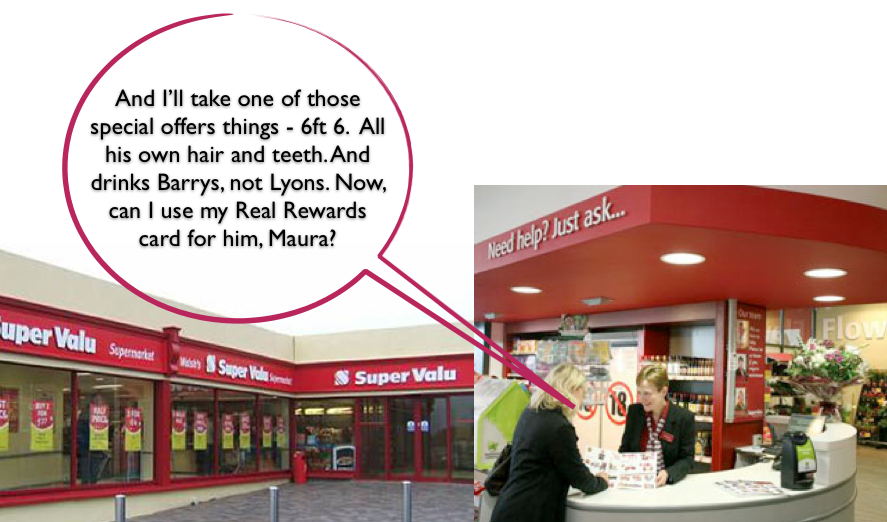 Walk up the Supervalu aisle on Sunday and you'll find beer tasting, wine sampling, chocolate nibbling and star sign shenanigans. The idea is to break the ice, to have a natter and a flirt around the bananas. Eye candy (of the human variety, not a pack of Jelly Tots) selected, you complete the dating process at Supervalu's check out. Where I think you can have any number of unidentified items in the bagging area.
Then if any of your choices think you are a very special offer (but not like, BARGAIN BIN), then digits (phone numbers, not fingers, that would be odd) are exchanged.
Well look, if it's good enough for Scarlett and Bradley, then who are we to object?
Advertised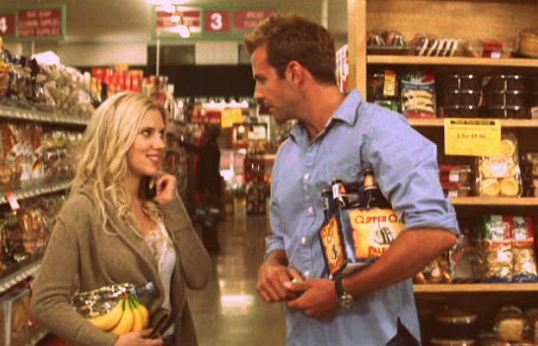 This method cuts through a lot of time-wasting.
If you see him loading up on prune juice, then you'll probably want to avoid him. Likewise you might want to leave your athlete's foot powder purchase for another day. But if you are both gazing at the Malbec, carrying lonely rib eyes in your baskets, then whaddaya know, suddenly you need help reaching for that bottle on the top shelf.
And if you are struggling to think of some supermarket-proof flirting techniques, then I have found this wonderful video to help. This man scares me. If he followed me around a shop, I'd start flinging random objects from my basket at him, as I made a run for the door.
His tips are equally terrifying. My favourite part of his lecture is when he suggests using props - he turns to his left and picks up bandages. But if he had turned to his right, he'd have had to go with a ginormous packet of Poise Light Bladder Leakage pads. Is it possible to seduce a woman with those? Now THAT would be the test of a master.
If you want to get tickets for this free event, head over to GetOut.ie for all the deets.
Advertised
Just don't forget to bring your loyalty card. And should you need it, you can always pick up a beaker on your way out.
What do you think of this event? Have you ever been speed dating? And where is the strangest place you, or a friend, has met someone? To the comments!