 I love everything about the gym, from working out to training people. There is, however, another love I have had for as long as I can remember: the outdoors.
Leaving the city behind me and exploring every so often is a must for Dave and me. We've been getting out most weekends over the summer for hikes and long walks, and it's one of the highlights of our week.
Over the weekend we took it a step further and went camping in Carlingford. I hadn't been in ages - festival camping isn't the same! It was such a fun trip, perfect for a quick getaway from a stressful life. There are so many isolated spots that are so beautiful here in Ireland.
People seem to be so focused on city breaks or going to festivals, that they seem to have forgotten how well spent a few nights in the wild can be. How beautiful the sunrise and sunset can be or the dark sky filled with stars. One of the best things for me is the campfire; everything tastes so much better when it's cooked on an open fire. One night away and we feel like we've had a holiday. I highly recommend giving it a go!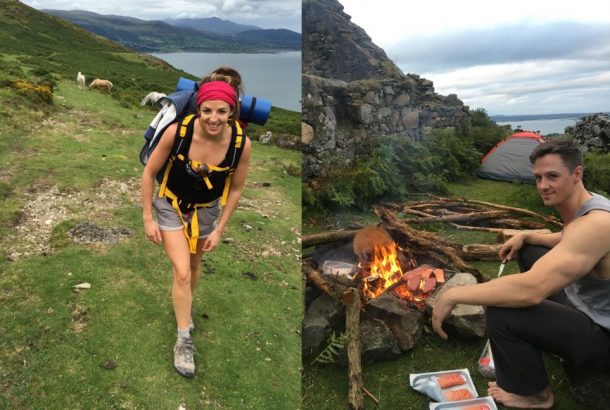 If you are looking to give the outdoors a shot before it starts getting colder again, then I suggest you find a route near you and just go for it. Put together a little day bag, grab a pal and go for a hike. These are two of my favourite routes around the Dublin area.
The Spinc in Glendalough is a lovely route. It's difficult and can be mucky so bring a change of clothes and lots of water. Lunch in Avoca afterwards is a nice treat!
Advertised
Howth is one of my favourite places; I go here a lot, and there's a choice of routes. This one is nearly three hours long with lots of amazing views.  
Next on my list is to try new adventures and I would love your ideas. Are there any walking routes or camping sites in Ireland that you'd recommend? I'm looking forward to packing up the car and visiting more places in our beautiful country. Let me know your suggestions, please!
Until next time…
Fi x
Metabolic Fitness Trainer
Advertised