 If you're put off my masks because they take so damn long to do, try the Cailyn Mummy Whipping Bubble Mask, which works in only three minutes
I love a good mask. I put one on every Sunday night and believe it's what saves me from looking like a haggard old witch on Monday morning. Thanks to budget brands getting in on the action, masks are more popular than ever before. Even better, because they are so popular, they've spawned interesting offshoots, one of which is the bubble mask.
Like (pretty much) every amazing beauty innovation, the bubble mask originated in Korea. Sarah Jane explained in her bubble mask demystifier, "fizzing bubbles form as the mask reacts with the oxygen in the air. This oxygenation helps the key ingredients to get deeper into the skin to hydrate and cleanse pores."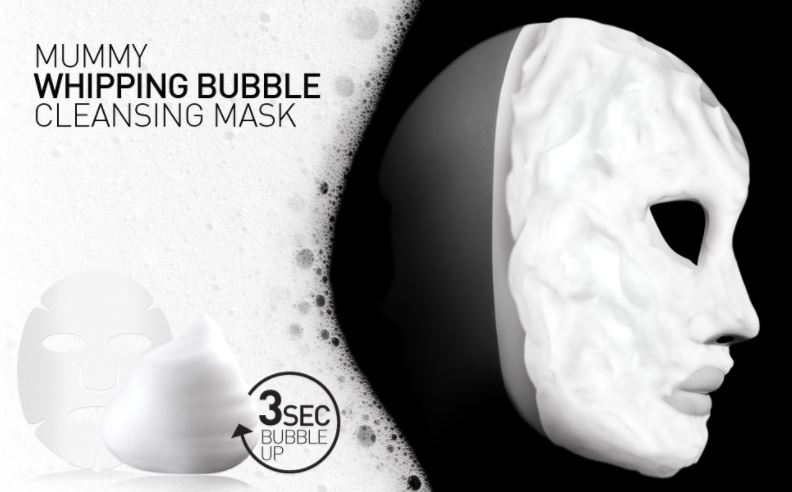 Advertised
Cailyn Mummy Whipping Bubble Mask €28 (for four masks)
The Cailyn Mummy Whipping Bubble Mask comes in sheet mask form. I love sheet masks because they are less messy than original clay and thick creams, and easier to remove. (And they look hilarious. I'd wear one for Halloween.) Unlike other masks that you keep on for at least 15 minutes, this works really fast. The titular bubbles start to form within three seconds of putting it on, and you only need to leave it on for three minutes.
It works fast, and it gives fast results too. Skin looks fresh and hydrated after, making it a great fix if you're going out on Saturday night... but you've also been out on Friday night.