 Even though I live 10 minutes walk from it, I can't remember the last time I swam in the Irish sea. I'm pretty sure it's at least ten years ago. I mean, it's not exactly the Mediterranean, is it? And it's not like our weather is usually hot enough for the idea of plunging into those icy waves to be appealing. I love the idea of swimming out of doors, but we just don't live in the right place.
At least, not until this week. A few day ago, I was sitting at my desk at home sweltering in the heat and wishing that I could go for a swim, when it dawned on me that actually, I could. For free. Just down the road. Okay, not in the bit of sea nearest my house - I live in Marino, and with the best will in the world I couldn't bring myself to dive in to the shallow waters of the Clontarf seafront. But just a couple of miles down the road lies Bull Island, with its old school bathing shelters. So I shoved my ratty old swim suit and a towel into my bag, jumped on a 130 bus and off I went.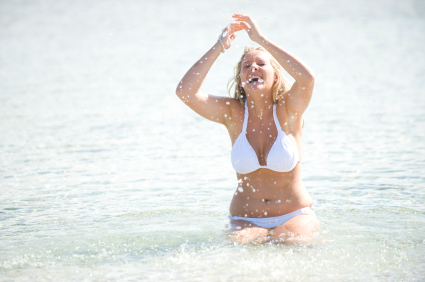 Nervous about leaving my bag unattended, I just brought my Leap card and left phone and wallet at home, but I needn't have been so fearful. When I stepped through the entrance into the ladies' shelter, I didn't realise I was entering a sedate little community. There were a bunch of older women sunning themselves on the seats and lying on towels, and they were clearly all regulars. In fact, it was a bit intimidating. But by the time I'd changed into my swimsuit and made my way down the steps into the water, I was starting to feel at home. A woman who looked like she was in her sixties came down too, and we urged each other to make the actual plunge.
And then I was in there, swimming in Dublin Bay, the Pigeon House on one side and the grass and rocks of the Bull Wall on the other. The sky was dazzling blue, the water was surprisingly warm, and my new old lady friends were having a great old laugh. It was brilliant, so much more fun than being in a boring old pool. It was even more fun that swimming in the sea in a sunny country, because it still felt like Ireland, but a better, sunnier, happier Ireland. I just swam around for a bit, coming back to the steps for regular rests, before finally, reluctantly, returning to real life, and hopefully having not been poisoned by whatever's in Dublin Bay.
Advertised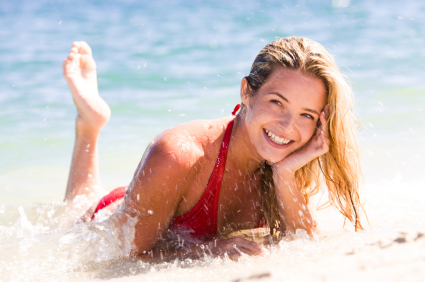 Of course, there's a serious downside to this swimming mania - four people, all young, have already drowned in Irish waterways this week. When I walked across the wooden bridge that leads to the island it was covered in idiotic teenagers jumping into the water, which is generally not deep enough there for this to be a good idea. I could see gangs of teenagers carrying bags of cans down to the beach. I was pretty relieved that I'd kept to the sedate ladies' swimming bit of the coast.
Accidents can always happen. But if you swim responsibly in a place with no strong currents and with adequate safety equipment, nothing beats wild swimming. So are you tempted to beat the heat by jumping into your nearest body of water, or will you stick to the safe and clean pool, thanks very much? If this weather keeps up, I'll be back in the Ladies' Shelter this afternoon...
(While you're feeling inspired have a goo at some of the loveliest swimwear we've spotted this season so far).