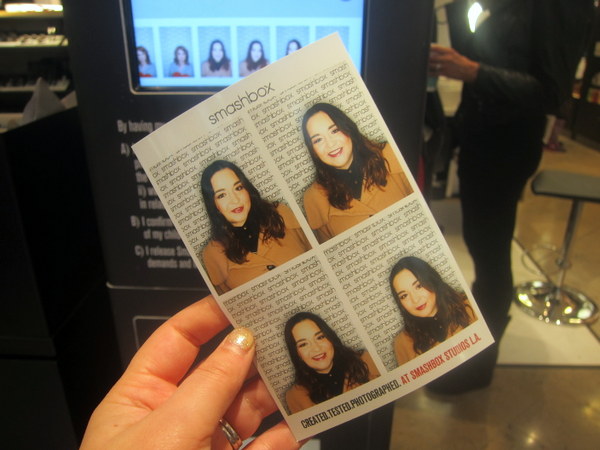 Being a beauty blogger is a funny old thing sometimes. I mean I love it and it's great, it really is, but there is nothing like taking a million close-up photos of your own face to make you suddenly and acutely conscious of your every flaw. It's fine for Aisling and Rosemary and my mum to encourage me to smile more in photos but as clearly evidenced here, it's not so easy when the result is a slightly demented chipmunk with a boss eye and no upper lip. Trust me - it's not that I think pouting is a great look, but at least it has some modicum of dignity. Just ask Posh Spice.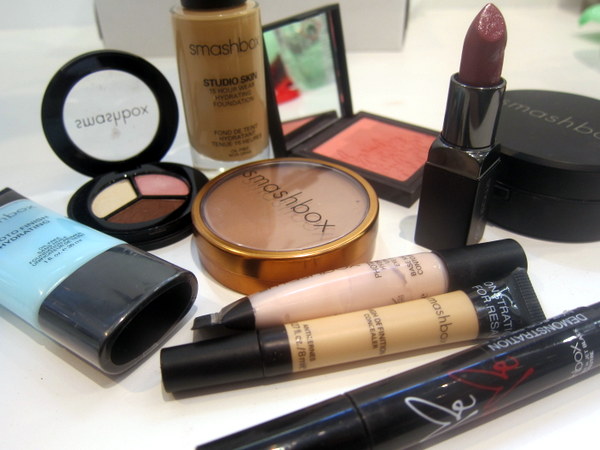 The products that were used on me - including lipstick in Fig, Love Me blush and Head Shot eyeshadow trio
All that said, there are some occasions when pulling poses just won't do. And being surrounded by lovely friendly Smashbox people watching you get your photo taken just happens to be one of them. There was nothing for it but to smile, chipmunk cheeks and all. And the results are softened somewhat by the really very lovely makeup look that was created for me first. And yes, I really should have taken off my coat.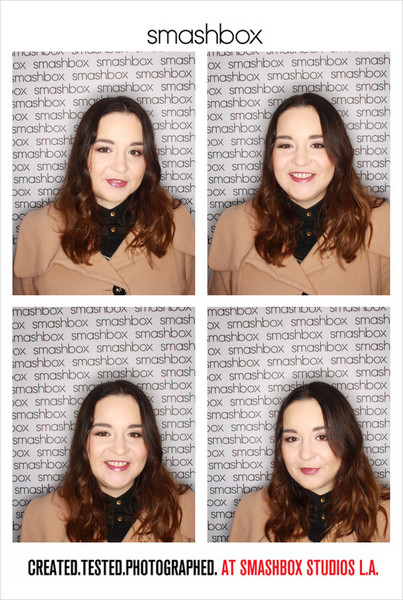 Advertised
All of this is in aid of the brand spanking new Smashbox counter in Arnotts, which is not only about a bajillion times bigger than the previous incarnation but also features a global first for the brand. A very swish - and permanent - photo booth is part of the new makeover which will allow you to try a product, get your photo taken and see what you think of the results before you part with your cash. And if you REALLY like what you see, you can also upload the pics to Facebook, share them on Twitter or email them to yourself for later use. Pretty nifty, eh?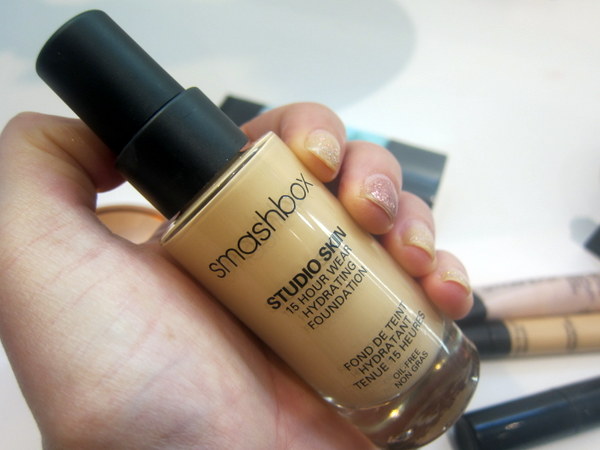 Unsurprisingly given the brand's heritage - it was born out of Smashbox Studios in LA - the makeup photographs beautifully. My previous experience with Smashbox prodcucts is quite limited but I am really taken with what was used on me here - especially the hydrating primer, described as 8 glasses of water for the skin -  I can feel my parched, dehydrated face drinking it up. The Studio Skin foundation stayed put - not just all day, but through a night on the tiles, too. And the eyeshadow trio in Head Shot may look understated in the pan, but the purple undertones to the brown shadow brought out a golden tone to my brown eyes that I've never noticed before.
Are you a Smashbox fan? Have you checked out the new counter, or do you plan to, the next time you're in town?