 Our guest writer Jessie (aka mscooksalot) has loved cooking and exploring recipes for as long as she can remember. Passionate about real food, she wants to know what's in it and where it comes from.  She believes that food is one of the greatest pleasures in life and can transform your experiences from the forgettable to the sublime. 
You can find more of her delicious recipes here.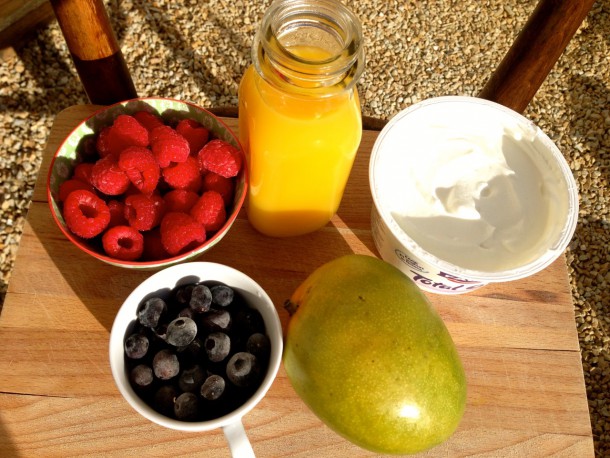 We all know that eating a variety of fruit is very beneficial but if you're anything like me, you can easily struggle to get your five a day. And that's where smoothies come in really handy.
I fell in love with making them when I got a fancy new Kitchenaid blender for Christmas a few years ago, and while December might not be optimum smoothie weather, I just couldn't get enough! Now that we are well on our way to summer, they make the perfect breakfast on the go - really nutritious and hydrating.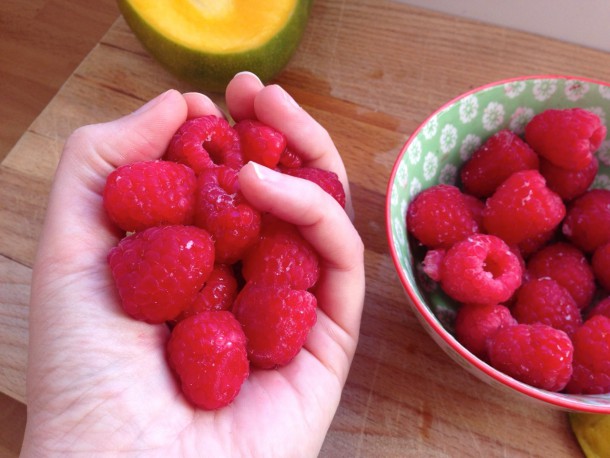 Smoothies tend to be quite expensive to buy when you're out and about, but they are much more economical and usually more delicious when you make them yourself at home.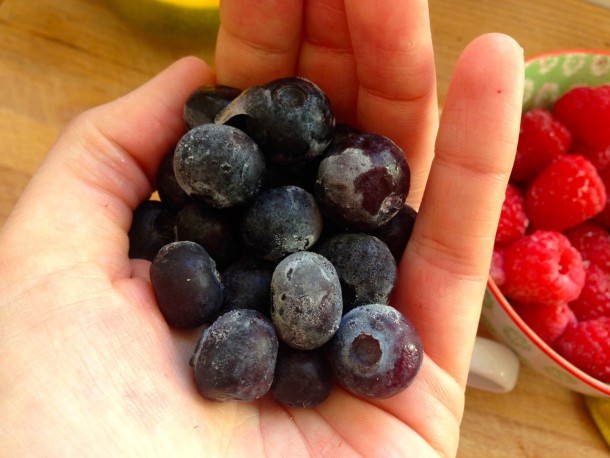 If you keep your eyes peeled for any discounts on berries or other fruit, you can easily stock up in your freezer. I like to use Greek yogurt as it is extra thick and creamy and is a good source of protein, but you can of course use any other kind of natural yogurt.
You can also customise this as much as you want, adding whatever fruits you prefer. I personally hate bananas, but I know I'm in the minority on that one. Feel free to use them instead of, or as well as mango, to help thicken the smoothie up. Strawberries will be in season soon and work wonderfully too, as do ripe peaches or nectarines. Berries are especially handy because you can buy them frozen all year round and they are much better value frozen than fresh.
This recipe is enough for one person as meal in itself or for two people as part of a bigger breakfast.
1/2 large ripe mango
large handful/ half a punnet frozen raspberries
large handful/ half a punnet frozen blueberries
1/2 cup / 125 ml orange juice (not from concentrate!)
1/4 cup / 60ml Greek yogurt (full fat or non fat)
Advertised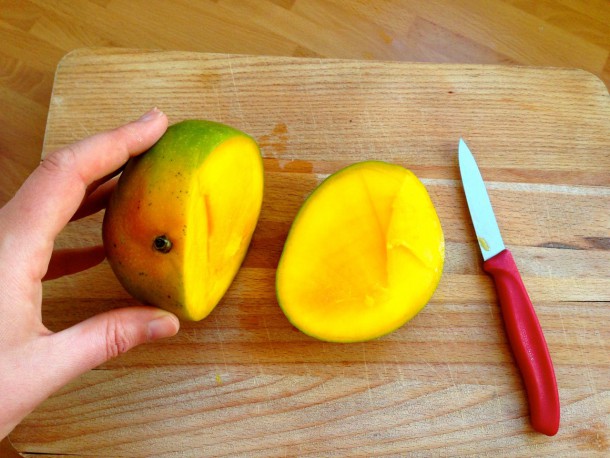 Start by dicing up your mango. I've found that using a small, sharp knife works better than a large knife.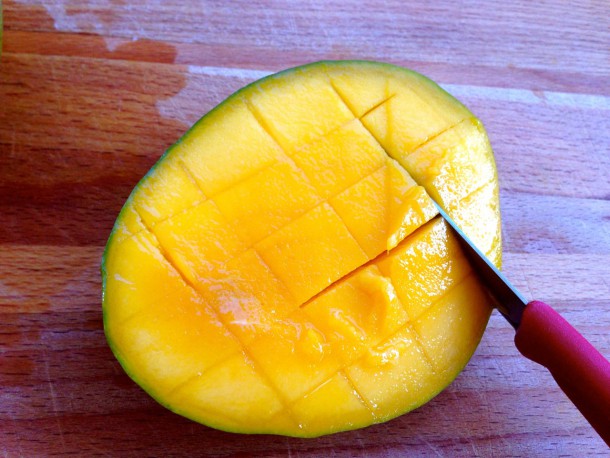 Cut down the side, just off centre from the stem. If your knife hits the flat stone inside, just move it slightly outwards - you want to cut parallel to this flat stone. Next, holding the piece of mango in the palm of your hand, cut-side-up, carefully cut into the mango down and then across, all the way to the skin, making a criss-cross pattern.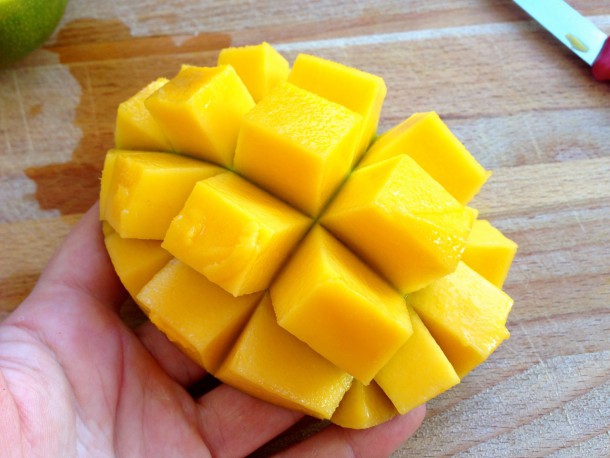 Then all you need to do is flip the skin inwards and the cubes of mango will pop out like a hedgehog. You can then cut them off straight into the blender. I use about half a mango each time, and I chop the rest of it up into cubes and stash them in the freezer in a ziplock bag, ready for next time.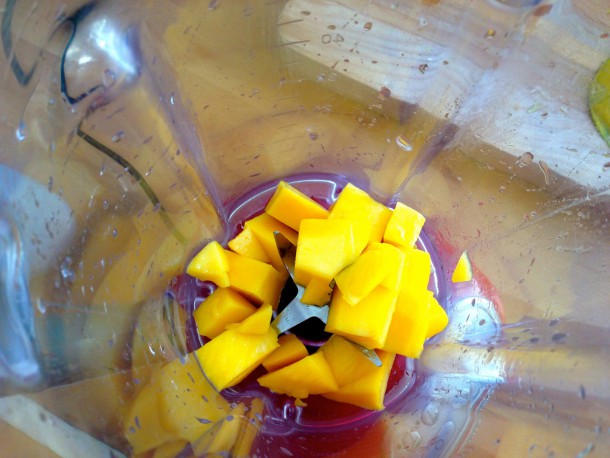 Add the raspberries, blueberries, yogurt and orange juice to the blender.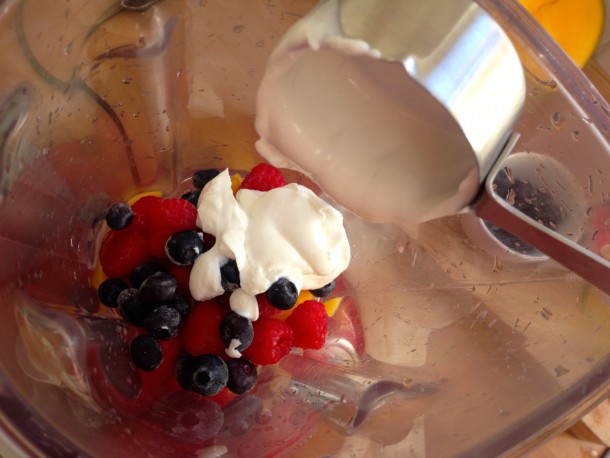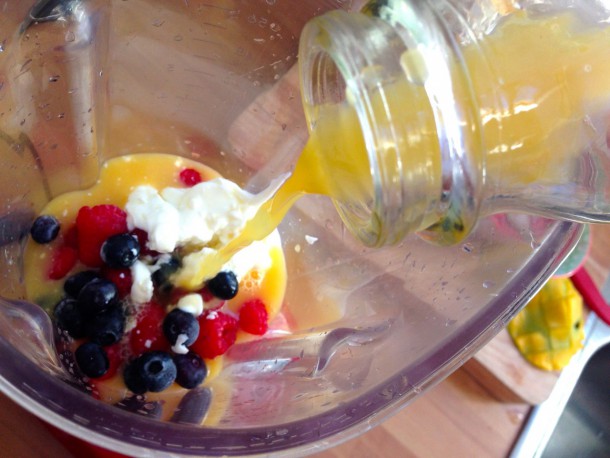 Blend thoroughly until smooth - this should only take a minute or two at most.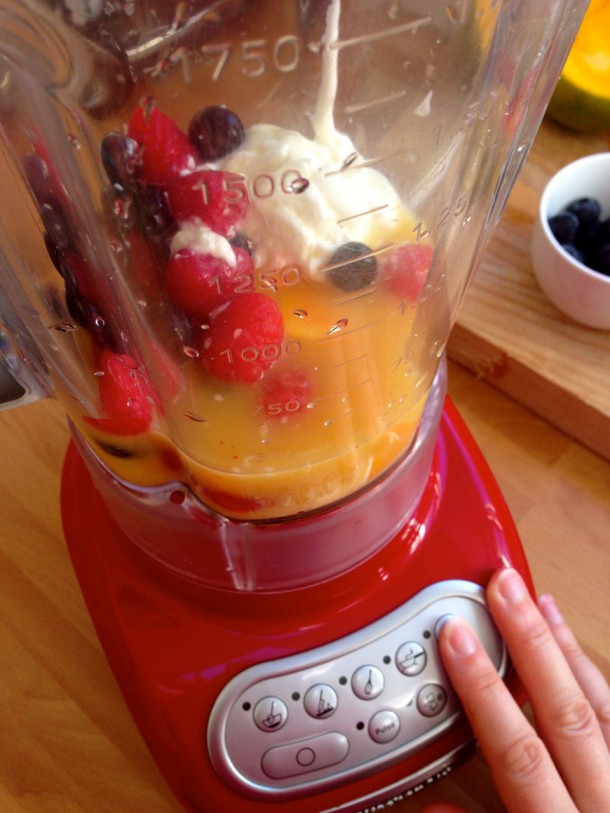 Ideally, you should serve this immediately before it loses its lovely semi-frozen texture. But you can store it in the fridge for a day or two if you have any leftovers.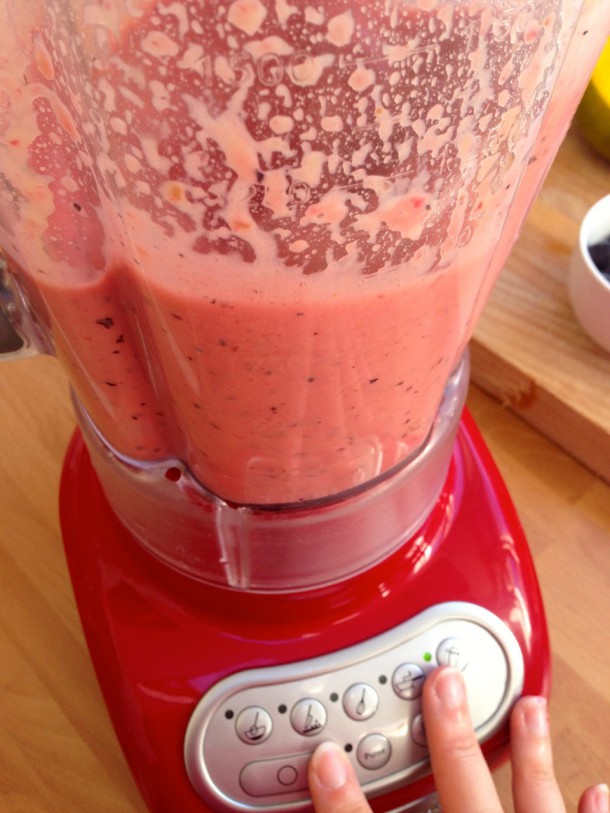 Enjoy!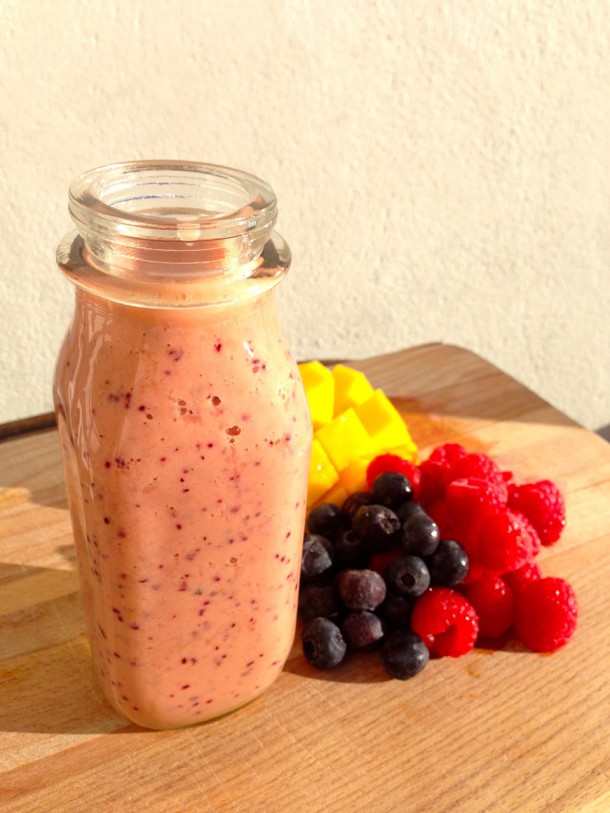 Advertised
Are you tempted to try out this recipe? Do you have any healthy recipes to share? We'd love to hear all about them!
If you'd like to read more from Jessie, you can check out her blog here!