 The first, and most important, question I must ask is: has anyone been watching Hart of Dixie? It is the most ridiculously twee television programme to ever be broadcast, but it is somehow also one of the most adorable - and with Rachel Bilson at the helm, who could have expected anything less? I truly think she's at her best when she's playing an adorable, slightly kooky character like Summer in The OC or Dr Zoe Hart in Hart of Dixie. Worth a watch, I promise!
Television aside, today I'm going to take a look at Bilson's off-duty style! I often advise clients to look at celebrities when they're thinking about styling themselves; it can be really helpful to find a sleb whose body shape is close (ish!) to yours and look at what they're doing, especially if you're stuck in a bit of a style rut.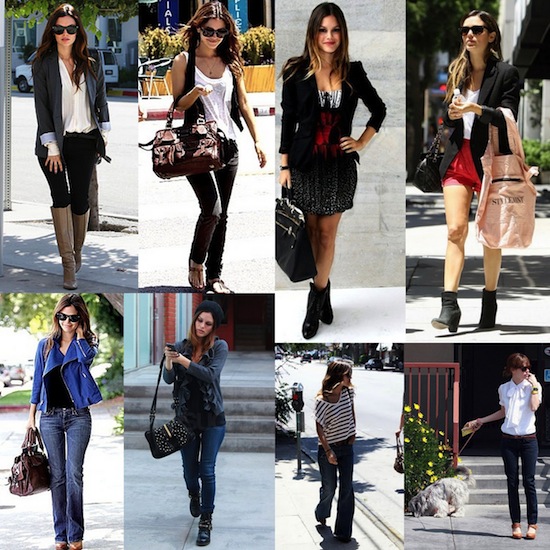 Rachel Bilson's off-duty style is really casual - and there are very few days that you'll find her in anything other than her trusty denims, which is great for us Irish ladies because we love our jeans! And remember: she's a teeny 5ft 1in, so her style is great for those of you who are super-petite.
To add shape and give bulk to her figure, Bilson is rarely seen without layers - she's really fond of structured jacket over dark tees with flared jeans, or slightly clump footwear: block-heeled boots and wedges, knee-high boots and pointy-toed shoes, which are great for elongating the leg. But enough about that - let's take a look at a few pieces that wouldn't be out of place in her wardrobe!
Advertised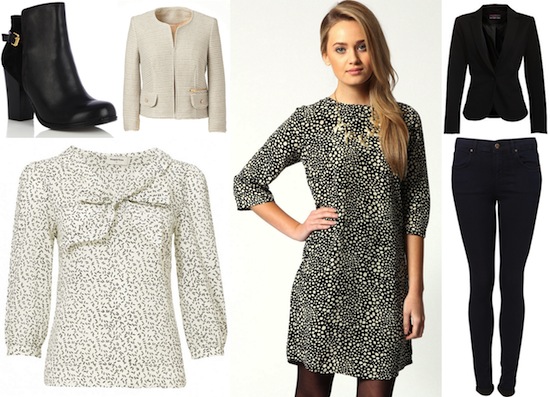 Clockwise from bottom left, we have: printed cotton pussybow blouse, £65 by People Tree at AtterleyRoad.com; black suede and leather boots, €88 at Oasis; cream bouclé jacket, €29 at Penneys and available from the end of October; black and white dalmatian print dress, a bargainous £15 at Boohoo.com; black single-button blazer, €24.99 at New Look; and dark denim Leigh skinny jeans, £38 at Topshop.com (and a total rip-off in euro, so try in-store and buy online!).
Y'know what's especially great about this selection? Everything has sleeves, nothing is overly revealing (Bilson doesn't really go in for the sexy look, except on the red carpet) and it could all be worn for summer, without top layers, and for winter with a scarf and jacket! Win-win!
Are there any stars whose style you love and would like to see us find high street copies of their wardrobes?
Get Beaut.ie Delivered
Stay updated with Beaut.ie newsletters full of the latest happenings at Beaut.ie as well as great offers and things we think you might find interesting .