 The lovely Catherine from Boutique Bake has been sharing her delicious baking recipes with us in her Sweet Saturday series (you can check out more Boutique Bake recipes here).
Boutique Bake are huge fans of the 'Great British Bake Off' so couldn't be happier that the new season has just started! This recipe was inspired by episode one, which featured this classic cake for the always-entertaining 'showstopper' challenge. There were a few disasters on the show but Catherine's recipe below is so easy to put together, you really can't go wrong!
Where there's a whisk, there's a way.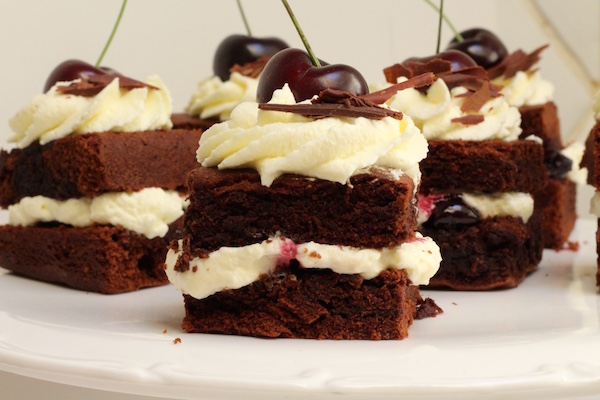 I decided to make mini versions of a Black Forest Gateaux, with some whipped cream on top and a fresh cherry, and I think they look gorgeous. Hope you do too!
Keep any eye out for a great competition on this site very soon, to celebrate all things baking and the 'Great British Bake Off.
So let's get started.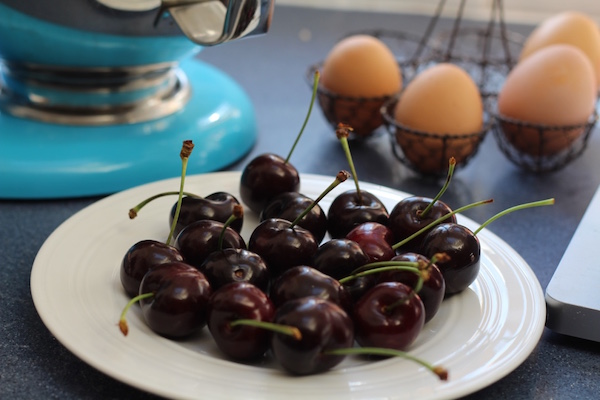 Ingredients:
For the chocolate cake:
300g caster sugar
300g butter (softened)
4 eggs
200g self-raising flour, sifted
100g cocoa powder
For the filling & topping:
1 can/jar black cherries in syrup (425g)
2 tbsp kirsch (this is cherry brandy, and is optional!)
50g caster sugar
400ml cream, whipped
For decoration:
50g chocolate shavings
16 whole cherries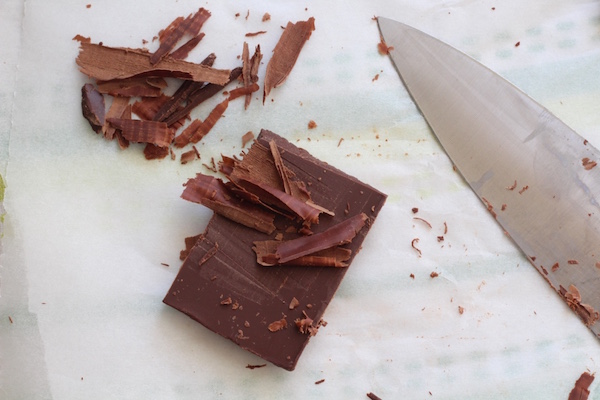 Method:
Preheat the oven to 170C/325F/Gas 3.
Line a baking tin with greaseproof paper (approx. 13inch x 9inch).
For the cake, place the butter and sugar in a bowl and using an electric mixer, beat until light and fluffy.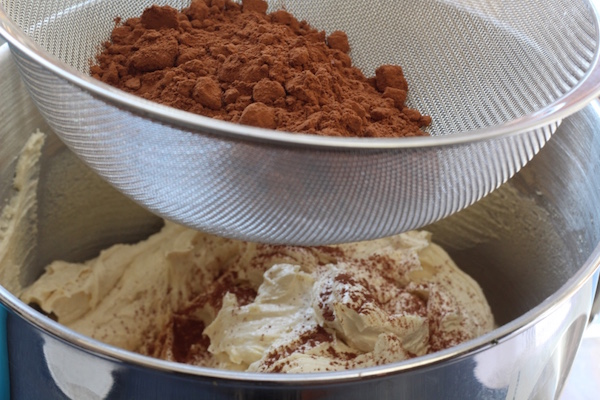 Beat in the eggs one at a time then fold in the flour and the cocoa powder.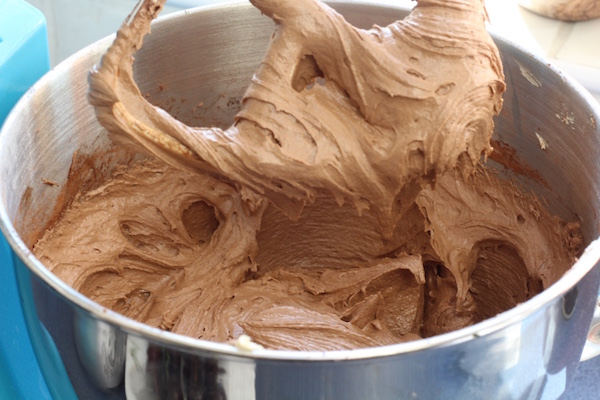 Advertised
Spoon the mixture into the prepared cake tin, smooth the surface with a knife.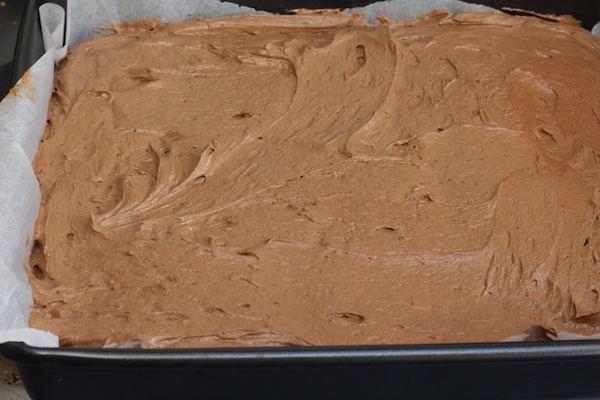 Bake in the pre-heated oven for 30 minutes until firm and springy.
Top Tip: To test if the cake is done, insert a clean skewer into the middle of the cake - if it comes out clean then your cake is ready!
Remove from the oven and leave to cool in the tin.
Place the jar of cherries, kirsch and 50g of caster sugar in a saucepan over a low heat, and stir until all the sugar is dissolved.
Once the cake is cooled, slice into even squares (approx. 16), then slice each square in half (horizontally).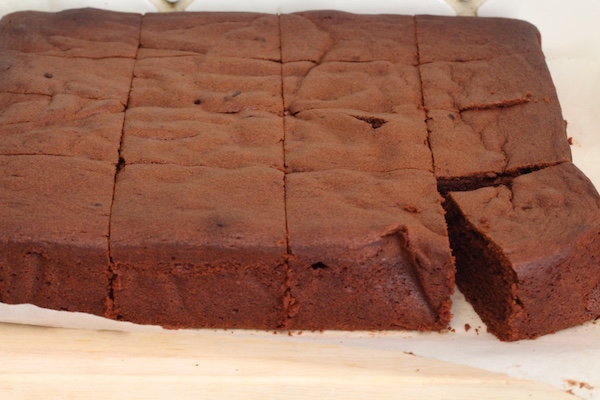 Place each square slice on a chopping board and spoon a couple of teaspoons of the cherry syrup (the liquid part of the saucepan mixture) evenly over each piece of cake and leave to soak in.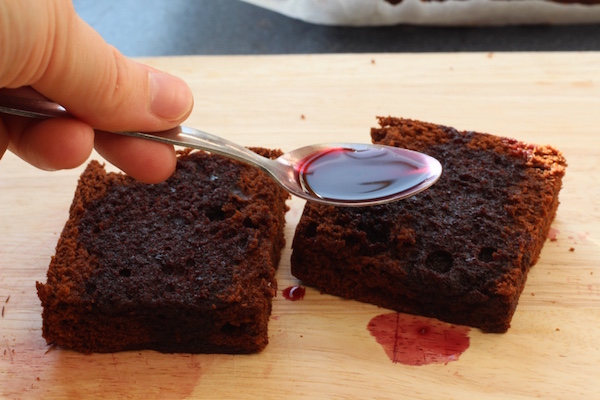 Next, scoop out some of the cherry pieces and place on half of the square pieces of cake.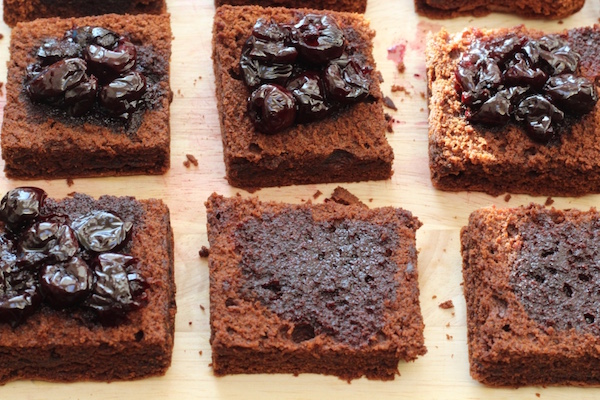 Top with some of your whipped cream, and place a square of cake on top of the cream.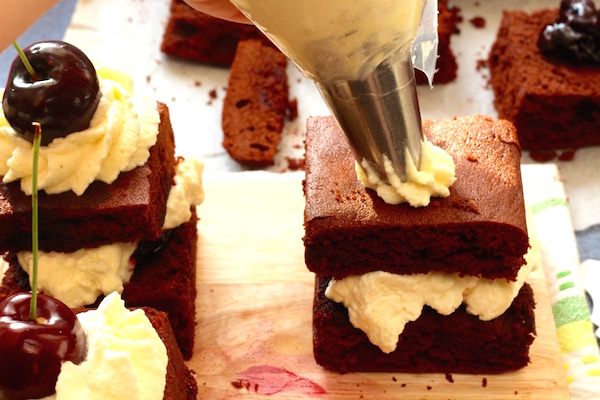 Finally, pipe a swirl of whipped cream on top of the cake and top with a whole cherry and some chocolate shavings.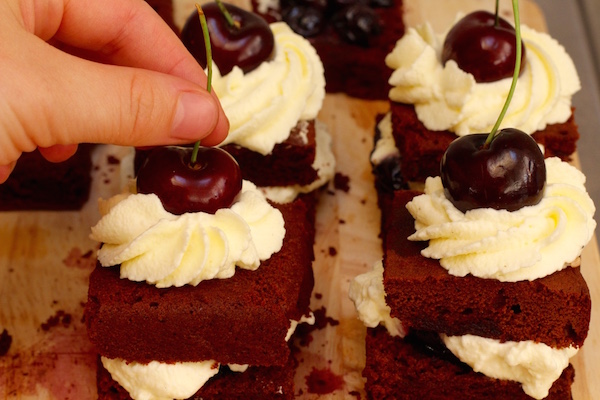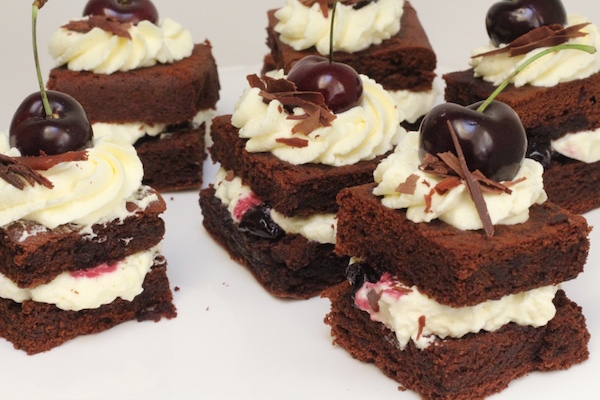 Keep any eye out for a competition running on this site very soon, to celebrate all things baking and the 'Great British Bake Off.
Advertised
If you'd like to read more from Boutique Bake, why not check out the website www.boutiquebake.ie? And if you are a social media fan, you can like on Facebook, find Catherine on the twitter machine (or Instagram) by searching @boutique_bake or even on Pinterest. 
Catherine is also on YouTube if you want to check out some baking videos!