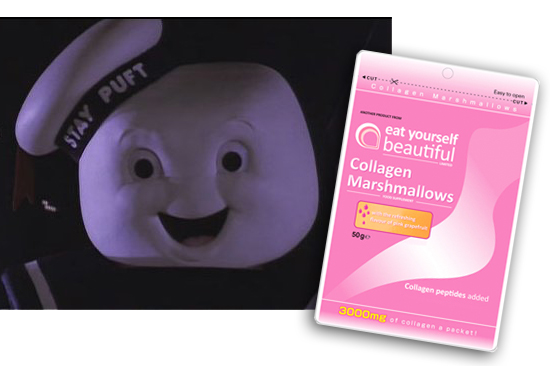 D'you remember a while ago I blogged about nutricosmetics and told you that they're the next big thing in beauty?
Well, like a lot of things, the trend emerged in Japan, where they know a thing or two about eating well. There you can buy beauty soup packed full of Co-enzyme Q10 as well as all manner of supplements and tablets to help you get gorgeous from the inside. Another edible nutricosmetic doofer that's all the rage in the land of the rising sun is that of collagen marshmallows. Yup, these grapefruit-flavored squishies contain skin-strengthening collagen, essential for plump, firm skin.
Collagen is also great for getting healthy hair and nails and taking it can potentially help with joint problems too. Of course, you can slap it on topically in moisturiser, but good-quality collagen taken as supplements can help with your general health as well as improve the quality of your skin.
Advertised
Now a UK-based firm have imported collagen marshmallows into Europe and are selling them from their eatyourselfbeautiful.com website, where you can bag three packs of the sweets for £9.99.
What do you reckon? Interested? Or do you think it's all a load of puff?