 What do you call a blender that's not a blender? When is a juicer not a juicer? When it's a NutriBullet, that's what!
The NutriBullet is the new must-have kitchen appliance that is absolutely perfect for helping you with your January (and hopefully whole year) health kick.
Did you know that fiber is removed from your yummy fruits and veggies when you blast them in a juicer? And blending leaves behind big old chunks. Well, what the NutriBullet does is breaks down ingredients into their most nutritious state so you can get the very best out of anything you throw in (and we're talking about carrots and like, oranges. Not burgers or chips.)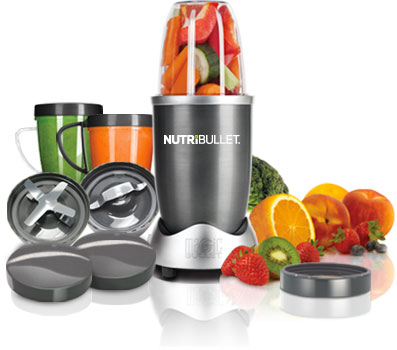 The idea is that ordinary, run-of-the-mill food, with their powers combined and losing none of the good stuff,  is transformed into super food. And why wouldn't you want food that's super duper? So, great news, we've got a NutriBullet to give away to one lucky reader!
HOW TO ENTER
Advertised
To be in with the chance, all you have to do is leave a comment below, follow us on Twitter @Beautie and send us a tweet along with the hashtag #NutriBeaut, or simply like our page on Facebook and share the competition with your friends.
TERMS & CONDITIONS
Competition is open to residents of the island of Ireland (North and South), entrants must be over 18, no cash alternative is possible, our decision is final, entries will be accepted until 11.59pm Friday 23rd January 2015. Good luck!
This competition is now closed!
CONGRATULATIONS TO OUR WINNER:
Advertised
Commenter, Caths Cullety, January 10th @05.18.