 Even though we're overwhelmed with Christmas tasks and all that jazz, we can't help be distracted by what's going on in the sales
Is it right to buy stuff for yourself before you tick one present off the list? Of course it is! Especially when you spot a genuine bargain. Like, when you spy a reduced-price investment piece that would normally cost as much as a small house, it would be criminal not to pick it up.
Sales are the times to get your leather jacket, good quality white shirts and shoes. All the shoes. Shoes are always a good idea. Don't argue with us; it's true.
We found a pair of Nine West boots that were originally priced €180. Now, you can get them for under €50. It would be a major insult to the shoe fairies if you didn't get them. They are classics with a twist: the dark red colour will match everything in your winter wardrobe, from skinny jeans to a leather mini; the block heel and relatively low height mean you'll be able to walk; the cut is really flattering - that slight dip at the front will make your legs go on for days. Also, they are dead ringers for Isabel Marant's famous style, so they're practically designer.
Advertised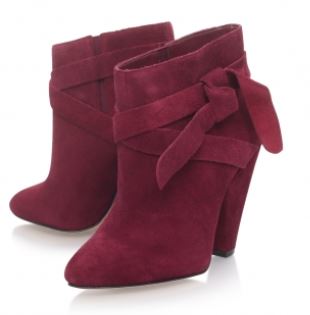 We can imagine Kendall Jenner prancing around town in these. We'd wear them with black skinnies, an oversized jumper and a denim jacket.