 Acne patches are a skincare treatment that people either seem to love or hate, so what are they and do they actually help your skin?
Acne patches have been around for a few years now but in the last few months, they seem to have really taken off with many brands making their own versions of the product.
So what are acne patches?
Acne patches are small circular stickers that are placed on any acne spots you may have on the face or body.
They are designed to draw out moisture from the spot by absorbing excess fluids which helps to get rid of oil and dirt.
They are a type of hydrocolloid dressing which is typically used to heal wounds.
Many acne patches also contain other ingredients such as salicylic acid, commonly used to treat acne.
Some patches contain microneedles that prick the spot allowing the ingredients to penetrate the skin more deeply but don't worry this isn't painful at all.
Do they work?
Now you know what they are you're probably wondering if they actually do what they claim to.
The effectiveness of acne patches hugely depends on what patches you use and the severity of your acne.
These patches usually work best on smaller breakouts, if you have cystic acne the ingredients may not penetrate the skin deep enough for you to see any significant results.
Acne patches can be very helpful for preventing you from touching or picking the spot which will allow it to heal quicker.
They are also great for ensuring that acne treatment doesn't get onto any other parts of the skin which could cause it to dry out.
Advertised
Overall it appears that acne patches are best for keeping small breakouts at bay.
What patches should I buy?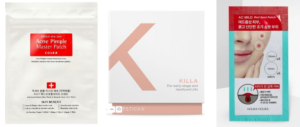 I've done some research so you don't have to and these three products are the best acne patches out there at the moment.
The COSRX patches are available for purchase from Look Fantastic for €5.45. The work overnight to reduce redness and inflammation.
The Zitsticka kit is available for purchase from Boots for €34.99. The patches are designed to cover, hide protect and improve the appearance of acne.
Finally, the Holika Holika patches are available for purchase from Beauty Bay for €7.00. These patches help reduce infection without drying out or irritating the skin around the acne.
Advertised
Are you a fan of acne patches or would you ever try them?