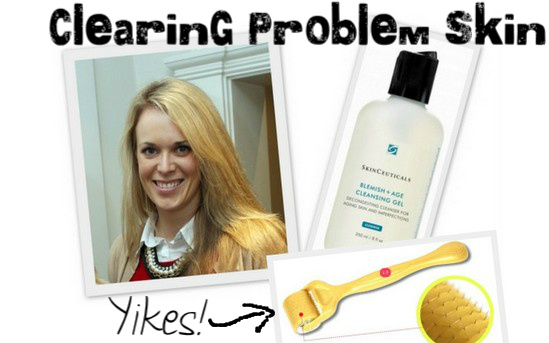 Dr Clare Cushen
My skin has gone mental over the past year.  I've tried all manner of lotions and potions with varying degrees of success, but nothing has fixed things for good. Having got through my teenage years and twenties relatively unscathed, it's starting to feel like clogged pores and breakouts are now a permanent fixture.
And it seems I'm not alone. Acne is on the rise in women over 30, often aggravated by our busy lifestyles (read more here). Speaking from experience, bad skin as a grown-up is inconvenient, embarrassing and frustrating as hell - so I've placed myself in the capable hands of Dr Clare Cushen, medical skincare specialist with The Hospital Group.
Dr Cushen specialises in acne and anti-aging treatments, and a typical consultation includes a skin analysis, discussion of issues and current skincare routines, and recommended course of treatment. In my case, skin texture, breakouts and mild acne scarring are identified as causes of concern, and a three step solution proposed.
The first step is a salicylic cleanser - Dr Cushen uses Image Skincare, and has the most amazing skin herself, but I've a Skinceuticals version on hand so will be using that. Salicylic based cleansers work to exfoliate dead skin cells, promote cell turnover and clear pores. So far, so good.
Advertised
Next, I am prescribed a 3 month course of Retin-A cream, a vitamin A treatment to tackle my breakouts and scarring. This is for use on problem areas three times a week, and a daily suncream is a must - see what we recommend here. It's on order from my chemist's and I'm very interested in how this will perform.
The final step is a course of dermaroller treatments. This involves a skin roller with micro needles and sounds, frankly, terrifying - read more about it here. But apparently, it encourages the skin to regenerate and produce new collagen and skin cells - and it lets products penetrate more deeply into the skin. That's got to be worth a bash, right? Right?!?
Beaut.ies, watch this space!
Emma was a guest at The Hospital Group, Kildare Street, Dublin 2.