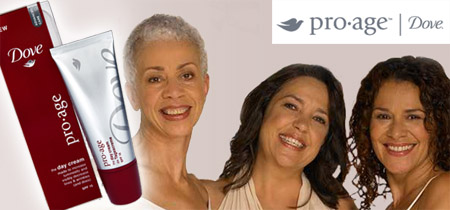 You'd be forgiven for thinking that if you wanted to buy anti-ageing products, you'd have to spend a blimmin fortune to achieve results. Not so - RoC, La Roche-Posay and L'Oreal all create effective products that very definitely fall into the 'affordable' category. And supermarket and pharmacy brand Dove launched their Pro-Age range last year, a suite of products aimed at women in their fifties. The range includes body and hair care, and the subject of this post, a brand new skin care line, too.
The day cream, above left, contains a few nifty gimmicks we don't tend to associate with a product that only costs €16.99 - airtight delivery systems, meaning the active ingredients stay that way; luminising and light-reflecting abilities, which minimise the appearance of lines and wrinkes, and lastly, the all-important SPF15. So essential, and yet, so often omitted by far more expensive products.
Advertised
There are a pile of other products in the range, including night care, cleanser, eye care and a serum. All are under €17, and all are easily available nationwide. Not bad, eh?