 I love being able to write about new products which really impress me. Beaut.ie readers are educated about their products, so do tell us in the comments if you've come across Santaverde before. I certainly wasn't aware of the brand, and as far as I know, it's new to Ireland and exclusive to Harvey Nichols.
Natural and organic skincare is becoming more and more popular. As consumers get savvier about the synthetic filler ingredients that companies are putting in their products, companies which leave all the crap out of their products like Nude Skincare  are gaining popularity. Nude is one of my favourite skincare brands, but the products are very pricey.
Santaverde products contain pure aloe vera juice as their primary ingredient - it is in all of their products. It hydrates, soothes and nourishes dry and dehydrated skin, as well as hydrating oily skin. It's a lovely ingredient. It goes without saying that if you're one of those unfortunate people who are unlucky enough to be allergic to aloe, these products won't work with your skin. Otherwise, they'll benefit you regardless of skin type.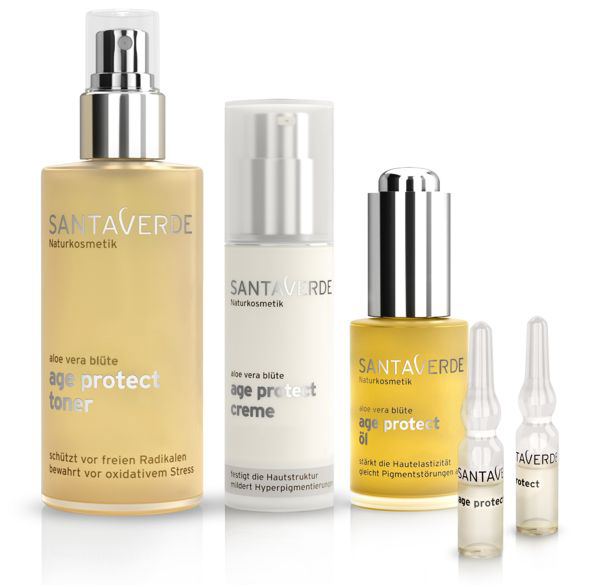 Very good quality facial oils tend to be very golden yellow in colour, and rather smelly. Often, they don't smell all that nice because they haven't been fiddled with and perfume hasn't been added. Sometimes, the blend of natural oils in them creates a lovely aroma. Just be vigilant for a synthetic 'perfume' smell.
I've been trialling some of the products from the new Age Protect Range, and I am seriously impressed.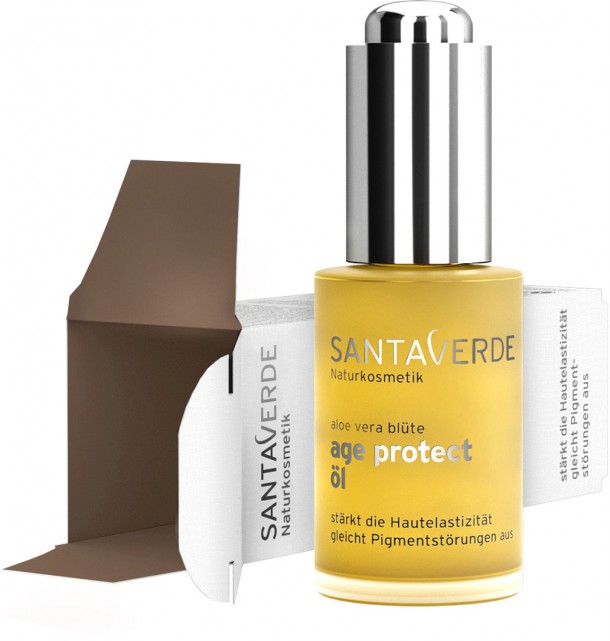 Santaverde Age Protect Facial Oil (€38)
As you can see from the above image, the company is German. Don't worry - the packaging comes in English! This oil is divine. It's become my favourite, and that's really saying something. It smells wonderful, but the perfumes are natural. Heads up - it does contain some alcohol, though it's organic. That's in there to stabilise the ingredients, and it isn't enough to impede the lovely nourishing qualities of the oils inside this bottle.
I always feel hugely reassured when skincare companies comprehensively list product ingredients on their websites. It means that you can assess the good and bad of the products, and that there's nothing in there that the brand would rather not be open about (so if you want a complete list of ingredients, head to their website for a look).
Advertised
This isn't cheap, but the quality of the ingredients is such that this easily competes with oils that retail at double the price. Your serum and your oil are the most important and most hardworking components of your skincare routine. It's wise to invest as much in them as you can reasonably afford.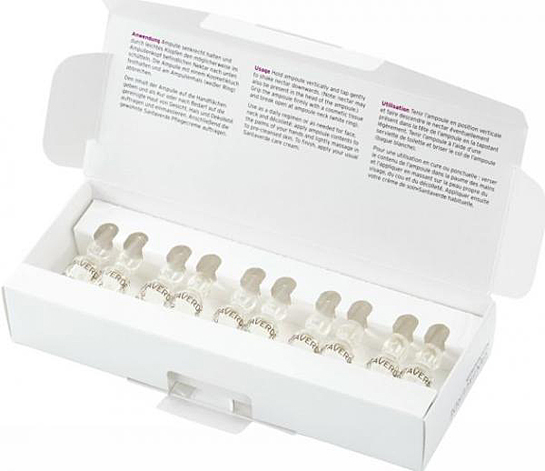 Santaverde Age Protect Boost (€38)
These are not an essential, but more like a skincare treat. The box contains ten cute little glass ampoules filled with various fruit extracts, lots of pure aloe vera juice, and hyaluronic acid. Like an intensive treatment, you can use them for ten consecutive days, or save them for days when your skin needs that little bit extra.
These are lovely and skin does feel hydrated and refreshed the next morning. I'd be more likely to buy these as a lovely gift for someone else than to buy them for myself, to be honest. If only because I'd be more likely to invest that sort of money in something which will work hard for me daily in the long run.
Santaverde Age Protect Moisturiser (€46)
The most important thing to say about this is that it's suitable for vegans. I tried a stint of veganism recently, and there's no point in having a very strong moral outlook on animal cruelty if it doesn't extend past the food you eat and into the cosmetics and skincare you use.
Good vegan skincare is so tough to find, so this one is brilliant for anyone who doesn't want their conscience to negatively effect their skin. This is again rich in aloe barbadensis as well as packed with lovely nourishing oils. It feels soothing and rich on the skin, and it works amazingly well in conjunction with the oil.
Again, these are not the most affordable products; they're more on the luxury end of the market. But a good bottle of oil will last for six months, and your skin is an advertisement for what you put on it, so I think these products are worth it.
Advertised
Will you be heading to Harvey Nick's to have a look (and a sniff) of these? Share your thoughts in the comments!