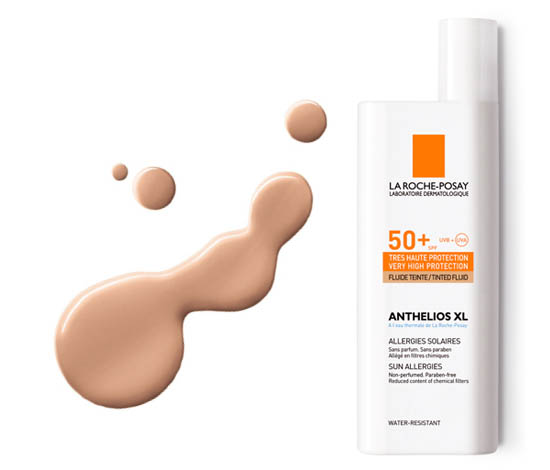 There's quite a bit of history between me and La Roche-Posay Anthelios sunscreens. Sure we go way back: the regular untinted fluid with SPF50 has been the Mammy's facial sun protection of choice for as long as I can remember, and it was the first suncare product I tried on my face that didn't cause me to break out.
In more recent times, I've been having a go of the tinted version: Anthelios XL Tinted Extreme Fluid SPF50+, €21.50. Like its untinted sister, it's a broad spectrum protector against both UVB and UVA rays. It's similarly non-comedogenic and has the lightweight, non-greasy texture that makes these fluids such a great suncare choice for normal to combination skins prone to oiliness: there's no awful sensation of it sinking into and clogging pores, or of skin feeling choked under a mask of sunscreen. It's also water-resistant, fragrance- and paraben-free, and suitable for use by sun allergy sufferers.
The big difference, of course, is that tint. It's a one-shade-suits-all deal, but it did blend well into my pale skin without making me look like I'd been Ronsealed or leaving dark tell-tale tidemarks. That surprised me, and I was further surprised by just how much coverage it afforded. Estee Lauder Double Wear it ain't, but it did a nice job of evening out my skintone while taking the blue edge off to leave me looking glow-y but not shiny.
Advertised
I'd certainly wear this on holidays on its tod, but how I've actually been using it for the last while is as an at-home daily sunscreen under my foundation. Given a few minutes to sink in, it actually makes a nice enough base for make-up and the tint in it is light enough not to interfere with the shade of my foundation.
Love it.