 Our excitement at the arrival of skincare behemoth Space N.K. in Dublin's Grafton Street still has not abated. We were so impressed by the beautiful new store full of wonders, and my year was made when I got to pop in and have a chat with the Queen of skincare, Caroline Hirons.
My own skincare regime is pretty intense, and I like to think that I know about what's good for my skin in terms of products. I spend a lot of time researching skin, and all the unguents and potions I can use to make mine better.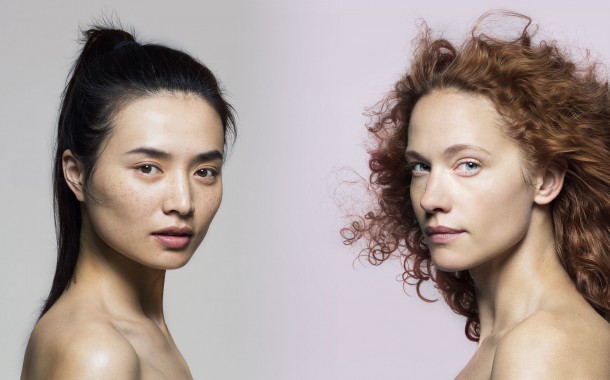 That's is why I was taken aback when I was recently introduced to Nude skincare. It is stocked in Space N.K., and the brand  was set up by Irish entrepreneur Bryan Meehan, and Ali Hewson.
How have I missed this wonderful Irish brand? I figure that if I've overlooked Nude, then you might have too. So let me enlighten you! Bryan's background is in organic food, and he put a lot of research into creating a skincare line which was luxurious, ethically sourced, full of natural ingredients, AND effective. Generally with skincare, products compromise on one of those factors. It is so incredibly refreshing to find some products that don't.
I've been trialling two anti-aging products from Nude for several weeks now; the ProGenius Treatment oil, and the Advanced Renewal Serum.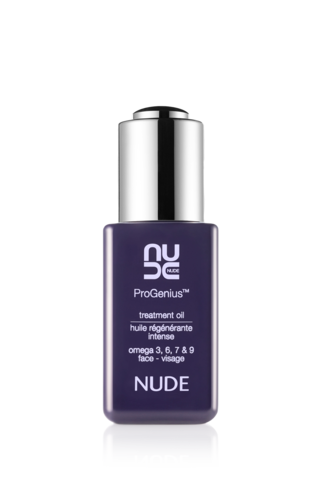 These products aren't advertised as anti-aging, and in general, I don't like the term. I'm more focused on giving my skin what it needs so that it doesn't show any premature signs of distress. Aging is natural and there's nothing wrong with it; taking care of your skin is a great thing to do at any age.
The folks at Nude get this, and that's why I liked them immediately. Bryan uses his own products, and so do his teenage daughters. The products are just about having great skin, and I have to admit that I love everything about them. The stylish but down-to-earth packaging, the clever, aesthetically pleasing logo and the naturally beautiful images (see above) are all very refreshing.
Advertised
The ProGenius Treatment oil has replaced every other oil on my night stand. The various oils in this product are literally too many to list, but the oils provide skin with omegas 3, 6, 7 and 9 to keep it wonderfully nourished. There are no nasties at all in this product - no mineral oil, no synthetic colour or fragrance, no silicones, no phthalates. All of the main ingredients that are generally used to bulk up skincare but have no benefit are simply not in this product. I love it. Also, If it swings things for you, Caroline Hirons told me that it is among her favourites!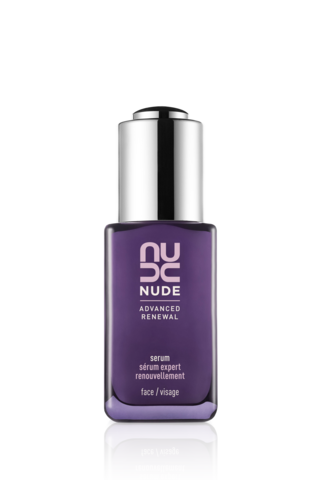 It's also the only facial oil on the market specifically designed to be worn under makeup. AND it's suitable for all skin types. I'd describe this as a must-have product in your skincare arsenal, and I'm one fussy customer.
The advanced renewal serum is also suitable at any age, but is most effective after the age of 25, when it's generally agreed that taking preventative measures to protect your skin is a good idea! The serum is lightweight and unperfumed but with a natural, almost medicinal scent. Skin drinks it in and is immediately plumped.
It just feels beautiful on the skin and contains omega 9 to nourish, as well as ingredients like jojoba seed oil and hyaluronic acid. It also contains hyper-nourishing carrageenan, which is extracted from red seaweed and does amazing things for the skin.
Again, there are no nasties to be found in this product. Nude simply have not cut corners in the way they've formulated these two products. I couldn't recommend them more highly; they quite simply make skin happy.
The drawback? The price. These products really are an investment. At 76 euro for the oil, and 82 euro for the serum, these are expensive products. However, I think  that you're paying for the quality you get. These are worth saving for.
I'm currently road testing some more Nude products, so stay tuned. I haven't been this enamoured with a brand in a while!
Advertised
Will you be heading into Space N.K. to check these out? Are you intrigued?