 Alright, let's just get the finger-lickin good and chicken fingers puns out of the way before we start because that's the way the Colonel would want it. And frankly, I find him terrifying in the same way that some people find clowns terrifying so I don't wish to displease him for fear of finding him hiding under my bed/peeping in my window at 3am.
Yes, KFC in Hong Kong have created not one but two edible nail polishes. You can choose from Original Recipe and Hot 'n' Spicy and you can probably have fries with either bottle should you so wish. Lookit, if this was April 1, I wouldn't believe me either.
CNN reports that it has teamed up with marketing agency Ogilvy and Mather to produce the duo, and whichever is most popular will go into mass production.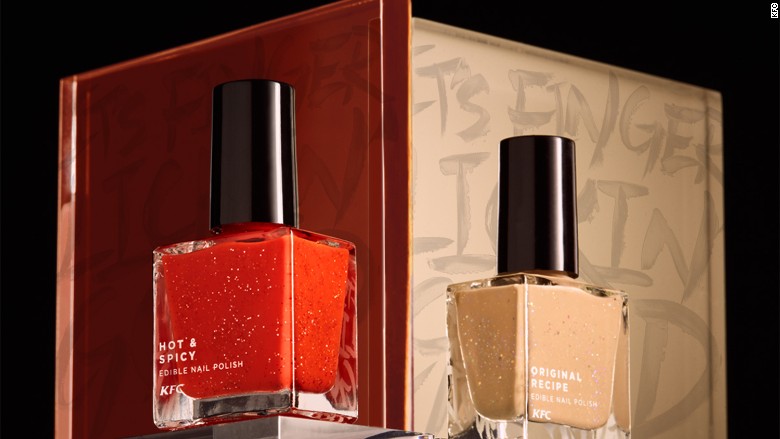 Advertised
The Original Recipe is nude beige and Hot 'n' Spicy is obvs red with a glossy potential of acid reflux.
I was a huge fan of the scratch 'n' sniff stickers when I was a kid so while I initially did scoff at this idea, I've actually come around to it now. And it has so many plus points. Fast food craving? Paint 'n' lick. Want Fred from Accounts to suck your finger, no, wait, TOES, simply apply and allow to dry. Want dogs and hungry children to follow you down the road? Wear flip flops and wiggle fingers in their general directions à la Roald Dahl's The Witches who actually didn't have toes at all and this may have been the reason why their plans for world domination didn't quite pan out.
But let's remember that we are in Ireland and as we ride this wave of national pride post-Euros, shouldn't we make our own flavour? Bacon and cabbage or Tayto? No, surely it's Supermacs related. I can just see Eyre Square in Galway packed to capacity with grown men painting each other's toenails in tasty and tempting flavours. And just like that, I've found an image more terrifying than the Colonel.
Would you sport an edible KFC-flavoured polish? Or what would you vote for as our national version?