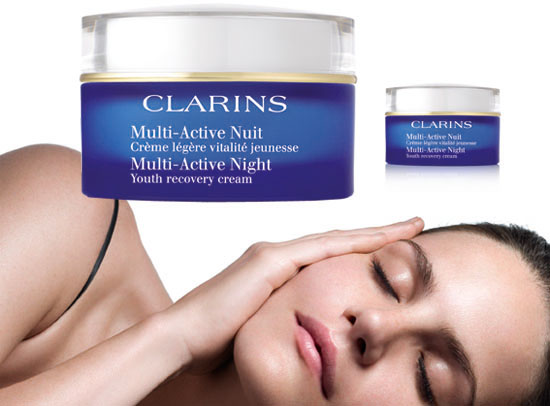 I popped along to the Sugar Club last night to check out the launch of Clarins new Multi-Active Night Youth Recovery cream, which is designed to be the evening companion to the recently reformulated Multi-Active Day line. By the by, I do like how the brand improve and betterise their products as opposed to just discontinuing them - one serum is on its 6th generation, if I'm not mistaken.
Sadly, Gorgeous Claude was not in attendance, but I managed to get by somehow. It was hard, but hey, I'm a pro.
So, what's this night cream all about then? Aimed specifically at women from 30 to 40, it's available in two formulations, one for normal-to-combo and one for normal-to-dry. It has a couple of EcoCert-certified organic ingredients - kiwi and carob - in it as well as a peptide to help compensate for the sleep-debt (1.5 hours less per night than we need, apparently) so many women experience.
Advertised
The product has been developed using the brand's knowledge of the circadian rhythms of the body and to get at the skin's cells when they're at their most active - which they are at night. Kiwi delivers optimum nutrition to the cells and the carob and peptide mix help to encourage fibroblast mobility, essential for the skin's ability to synthesise collagen.
In simple terms, this product aims to make your skin look great while you get your eight hours. Or, eh, six point five hours.
€61.50 is the damage for a 50ml pot, and you'll find it on counter now.