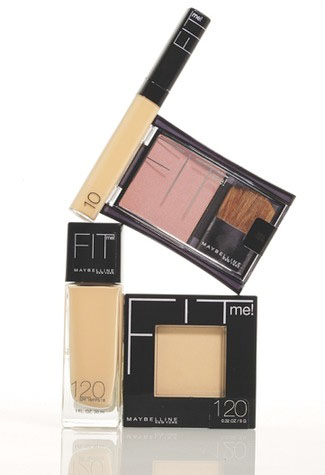 While you know we don't tease you (generally) with stuff we can't get here, I thought this in-coming innovation from Maybelline was interesting for a mass-market brand and fingers firmly crossed it makes it across the Atlantic at some point.
The company is launching a new concept called Fit Me in the US and is based (based! ha!) around the thorny issue of getting a correct shade match for your skin. Obviously it's harder to be colour-matched for foundation when you're standing in a supermarket than it is when you can at least get some advice at a department store counter, so they're addressing that problem.
Maybelline know foundation matching is baffling for many women: "Our research tells us that 'the right shade for me' and 'needs to look natural on my skin' remain very important to the 1,000 women we spoke to. That was a big learning — and the inspiration for the Fit Me launch,"  Ali Goldstein, vice president of US marketing for Maybelline New York, told WWD.
The basic idea here is that you buy your products (foundation, powder, blush, bronzer) as a suite that suits your colouring and to make it easy, the traditional makeup stand concept has been reorganised. All items will be co-ordinated horizontally in collections so you can easily get everything that'll work for you. To make it simpler again, products are labelled with large numbers, so if a 120 foundation's yer only man, then the 120 powder is what goes with it. In addition, there'll be a tool to help you to identify your shade in the first instance.
Advertised
What do you think of the idea - is it something you'd like to see Maybelline introduce into the Irish market?