 Promoted Beauty
The winter period can be exceptionally harsh on your skin. With the extreme cold of the outdoors and hot indoor heating, your skin can actually experience a "shock".
In fact, throughout an average day, your skin can experience up to 17 of these "shocks" which basically leads to dehydration, the cause of premature ageing and fine lines, and we all know that keeping your skin hydrated is the most important thing to do to maintain a youthful appearance. While drinking water is helpful, choosing the right skincare is a must.
Last week, we were treated to an exclusive preview of the brand new Hydra-Essentiel range from the lovely people over at Clarins to learn all about their new January launch.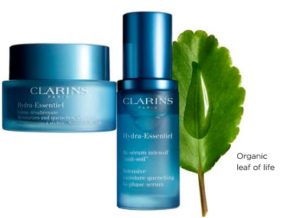 Here's how we got on:
We caught up with Caroline Camuzat, the Scientific Communications Manager for Clarins after the event to delve deeper into the science behind this amazing new range.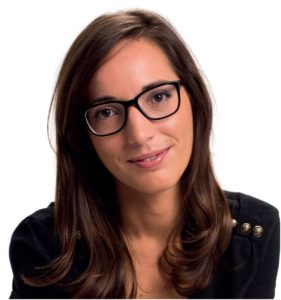 Beaut.ie: I understand everybody's very excited about a major innovation in the Clarins new Hydra-Essentiel range, what has everybody so very excited?
Caroline: Hydration being quite a basic skin need, it is very difficult to develop a new scientific concept in the hydration field. For the new Hydra-Essentiel care range, we manage to develop an innovative and unique scientific story that is based on two key pillars of Clarins' philosophy:
The bio-inspiration
By observing nature, we have identified a plant that is a fascinating example of self-hydration: The Leaf Of Life. The plant, native to Madagascar, manages to keep its leaves full of water, despite the extremely dry weather conditions, thanks to a specific water-retaining sponge molecule able to hold up water inside and its resistant strategy to survive inspired us for our new Hydra-Essentiel.
Sustainable beauty
Clarins has set up a cultivation area of Leaf Of Life in collaboration with Jardin du Monde in the North of Madagascar. This project involves 51 women from local population with a fair trade agreement, and it contributes to the economic development of this part of Madagascar. The watering, weeding and harvesting are done by hand, without the use of any chemical product to respect the environment. That is why our extract of Leaf Of Life is certified organic.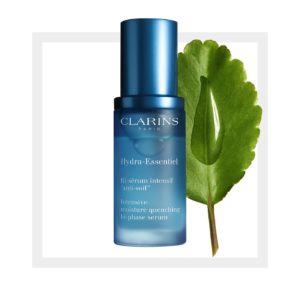 Beaut.ie: Does this Leaf of Life stop at simply moisturising the skin?
Caroline: The new Leaf Of Life extract is more than just a moisturising agent to boost skin hydration; it does not provide the skin with water-retaining molecules, like most of the hydrating agents. Leaf Of Life extracts re-educate the skin to function at its best. It reactivates the self-hydration mechanism of the skin by increasing the production of the sponge molecules by the skin itself in all the cutaneous layers, therefore the skin recovers its ability to stay hydrated in any circumstances.
Beaut.ie: Is the new Hydra-Essentiel range based simply on this one new innovation?
Caroline: There is a second innovation on the pollution protection. As you may know, Clarins was a pioneer in pollution protection with the launch of the first makeup foundation formulated with AP (anti-pollution) protection in 1991.
For the new generation in 2017, Clarins has studied the negative impact of four major pollutants (PM2.5 and 10, formaldehyde and cigarette smoke) coming from outdoor and indoor sources.
Advertised
- Damaging the skin barrier function
- Overproduction of free radicals
- Damaging the matrix components
- Leading to dehydration and premature ageing
That is why we have incorporated the latest generation of AP protection in our new Hydra Essentiel range, 100% natural and efficient against all of these pollutant damages.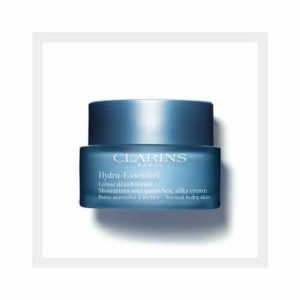 Beaut.ie: There are so many skin types out there; which would you recommend new Hydra-Essentiel for?
Caroline: Clarins has thought of everything! Our formulators have designed five textures that meet all the skin needs.
For normal skin: The silky cream (with or without SPF) is a fine and melting texture that provides nutrition and comfort thanks to perilla oil.
For combination skin: The cooling gel, which is a totally new icy blue texture with an ultra matt finish or the milky lotion SPF15, a melting texture, that regulates sebum overproduction to limit skin shiny aspect.
For very dry skin: The rich cream is a lightweight texture enriched with cupuaçu butter to provide extra comfort to the driest skin.
And for the most dehydrated skin, we recommend you combine one of these creams with the bi-serum, the SOS intensive treatment for all skin types to provide a splash of water and freshness.
Beaut.ie: We all know different weather conditions can affect our skin in different ways; when is the best time to use new Hydra-Essentiel?
Caroline: Scientists at Clarins proved that whatever the temperature (either cold or hot) and the humidity level, skin tends to become dehydrated. That is why we recommend using Hydra-Essentiel all year round.
However, you can adapt your hydration routine depending on the climate. Choose a lightweight texture during the hot season with the cooling gel or the fluid SPF15. During winter, if skin needs a supplement of nutrition, you can switch with the silky cream or the rich cream for additional comfort. All these products deliver the same hydration power, they just offer different sensorial experience.
Beaut.ie: People these days are more and more concerned about air pollutants; can the new Hydra-Essentiel range protect our skin against nasties in the air?
Caroline: Yes. Pollution is also one major dehydration factor in our modern lifestyle. That is why Clarins has incorporated the latest generation of its anti-pollution complex in the new Hydra-Essentiel Care. This AP complex protects the skin against indoor and outdoor pollutants.
It is made up by:
New African ebony extract: reinforce the barrier function and protect the matric from enzymatic damages
Furcellaria extract: physical protective barrier on the skin surface
Succory dock cress and sanicle: reinforced antioxidant protection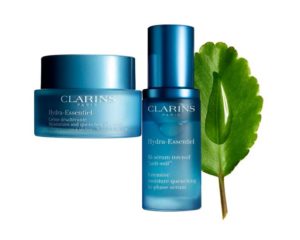 Advertised
So there you have it, all your questions asked and answered about the new gorgeous Hydra-Essentiel range from Clarins. If you have any other questions you would like answered, just comment below.