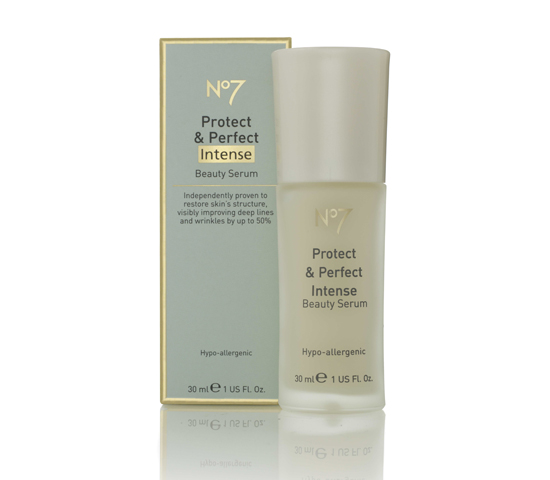 Of course, we all remember the Professor Regan-sparked Protect & Perfect brouhaha of a couple of years ago, when BBC's Horizon programme broke the news that this was an anti-ager that worked. The product promptly sold out for weeks on end, and the original serum was then joined by a suite of products including day, night, eye creams plus a line of skincare for men.
Even before the TV show aired, Boots' scientists knew it was a performer, but what they were also aware of at the time was that there was another cream in the No7 stable, Refine & Rewind, which was probably the better product.
The company have been busily proving their sneaking suspicions about Refine & Rewind over the past 18 or so months. At a launch in London yesterday, Stewart Long, Boots skincare scientific advisor, revealed that the product has now been re-branded as Protect & Perfect Intense Beauty Serum, and will go on sale from tomorrow at €26 for 30ml.
Big deal, you might be saying. And at one point I was thinking to myself, "why did I bother to go to London for that, eh?" But the re-name's actually not the big news here. The real story is the results of a clinical study Boots conducted with the University of Manchester to test the efficacy of the product.
The company say they've conducted the worlds first independent double-blind randomised controlled trial of a beauty product on 60 women, aged 45-80. The trial lasted 12 months and all test subjects displayed significant signs of ageing, including wrinkles, UV damage and poor skin texture at the start.  By the time the trial ended, 70% of them showed 'a marked improvement in the appearance of photo-aged skin skin'. The double-blind, randomised method ensured that some test subjects got an active product, some a placebo, but no one knew until the results were collated, so no influencing could happen.
Advertised
The thorough and comprehensive trial is impressive enough, but the other bit of big news about this launch is that Boots have broken even more skin-care ground with the fact that the brains at respected British Journal of Dermatology were so convinced by the science that they published the study yesterday. That's a very big deal for a product that's not a proven medical-grade time-reverser like Retinol, not to mention a big step forward for the company. According to Stewart Long, this is a first for an anti-ageing over-the-counter beauty product from any brand, too.
So, what does this mean for consumers? Basically, it means that Boots have proven without a doubt - and the British Journal of Dermatology agree - that Protect & Perfect Intense Beauty Serum works. Using a combination of the original Protect & Perfect's  white lupin and retinol palmitate ingredients, they've added extract of alfalfa plus peptides and antioxidants to ramp up the formula.
The original serum should be used by those with fine lines and wrinkles, while Intense is intended for use by women who are 30-plus or those who are showing deeper lines and wrinkles. They should use the serum once or twice a day before moisturiser. It's silky to the touch, non-sticky and absorbs quickly. Boots say you'll see an immediate difference (but this could be to do with lovely line-blurring dimethicone in the mix) and over time, you will see an improvement in the depth of wrinkles and a positive change in the firmness of your skin.
I snuck a bottle home with me on the plane last night, and intend to give it a decent trial. What do you think, though? Convinced? Will you be picking up a vial of this new magic potion?
Advertised
If so, you might want to be quick - I have a sneaking suspicion that Boots may have another case of Protect & Perfect mania on their hands.