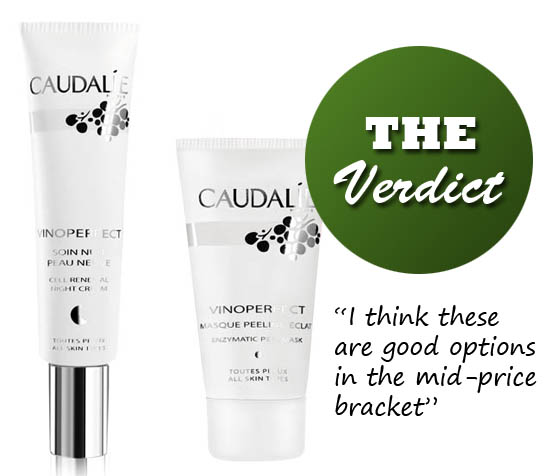 I first posted about Caudalie's Vinoperfect Cell Renewal Night Cream, €35.80, and Enzymatic Peel Mask, €28.80, back in July. Promising an "even, fresh and radiant complexion", both products use Caudalie's patented Viniferine to attack dark spots, a papaya enzyme and glycolic acid complex to exfoliate and grape seed oil to nourish and hydrate.
I didn't expect the low concentration of exfoliating ingredients in these products to product overnight results, but I have some pigmentation marks that I was hoping to lighten a little and was looking to brighten and even out my complexion in general. I did use the Cell Renewal Night Cream nightly for the six week testing period, though my laziness about incorporating masks into my routine meant I only used the Enzymatic Peel Mask a few times in total, rather than the twice a week they recommend.
I was a bit unimpressed with the initial results. After the first few days, when my skin felt smooth and soft, I started experiencing some clogged pores and my skintone just didn't look great. But once I started washing my face with a rinse-off cleanser in the mornings (I usally just splash with water), this improved. And this makes sense I suppose; the exfoliating ingredients are increasing the turnover of skin cells, so you'll need to wash that all away in the morning.
Advertised
The tingling feeling I felt on application of the products to begin with didn't last too long, and they thankfully never bothered my sensitive skin any more than that.
After about four weeks, I did start to notice a difference. My skin looked smoother and more evenly toned and the pigmentation marks did seem to have lightened slightly. Now it's not an amazing result, but for products that can safely be used on sensitive skin, it was good enough for me and if I used the mask more frequently I'm sure it would have helped.
If you're looking for extreme results on areas of pigmentation, these probably aren't going to do you much good, but if you want a mildly exfoliating product that is suitable for sensitive skin, then I think these are good options in the mid-price bracket.