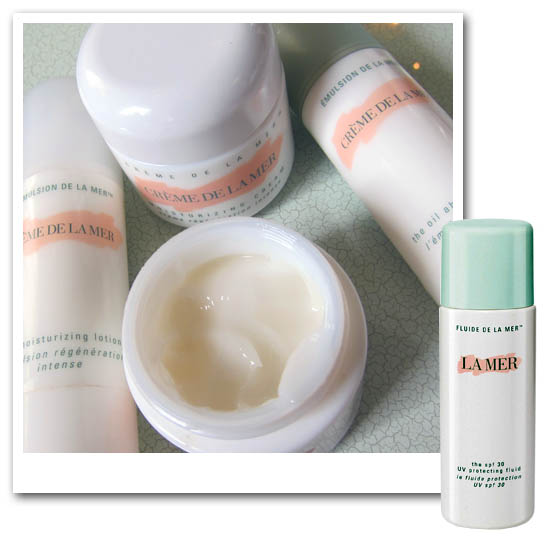 My hands have never looked so pretty. They've just spent an hour being generously slathered in one of the world's most premium skincare brands. Crème de la Mer were in town, and they told me all the news while demonstrating their lotions and potions on my lucky hands and arms. My face has never been so jealous.
I'll hold my (prettified) hands up: I'm a complete sucker for a fancypants brand, and they don't come much fancier than La Mer. If you're not familiar with its origins, it was developed half a century ago by aerospace physicist Max Huber, to treat his chemical burns. Using a top secret bio-fermentation process he created the Miracle Broth, which is packed full of nutrients and the basis of many of the products in the range.
While that all sounds brilliant and intriguing, I should point out that the exact ingredients of the Miracle Broth are something of a mystery, and the brand don't go in much for things like releasing clinical data, to prove the efficacy of their products. So it's a case of suck 'em and see – and at those prices, I can't really afford to do much, er, sucking.
So while the Crème de la Mer lip balm is one of my most prized possessions, it's also the only La Mer product I've ever owned. This is partly because of the prices – 30ml of the original cream will set you back €125 with the lip balm alone retailing at €58 – but also because, if I'm honest, I've felt intimidated by the brand, and afraid to even look in the direction of the counter. And the old location in Brown Thomas Dublin didn't help: it felt very exposed, but I'm assured that the new location is much more welcoming and conducive.
I confess to feeling a little anxious about the meeting. Were my shoes shiny enough? Were my nails chipped? Did I have something in my teeth? But honestly, they could not have been more lovely. They were here to talk about Blanc de La Mer: The Brightening Collection, which will be on counter in Brown Thomas from March.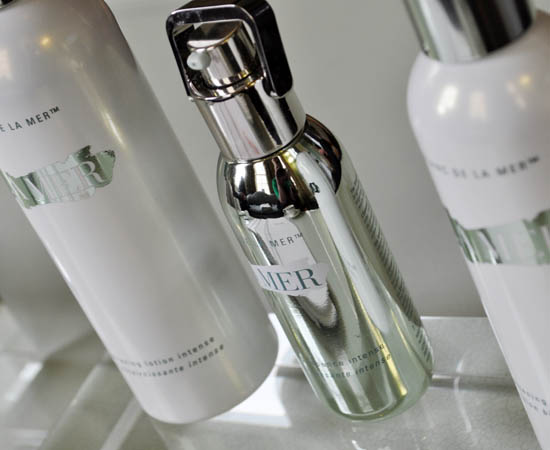 Advertised
Originally formulated for delicate Asian skin, these products should also work well on pale Irish types (with buckets of cash). The collection includes three products: the Brightening Lotion Intense, to tackle hyper-pigmentation, improve the texture of the skin, and prepare it for the other products in the range; the Brightening Infusion Intense, to calm and soothe the skin while targeting dark spots and boosting the benefits of the final product, the Brightening Essence Intense. This brightening, anti-aging serum claims to increase the luminosity of the skin while repairing visible damage.
All the products contain the Miracle Broth, to sooth redness, and the Brightening Lotion and Essence both contain the brand's Smoothing Ferment, intended to tackle dullness and improve skintone by accelerating the natural cell turnover of the skin. The Essence also contains a Youth Ferment which, you guessed it, is intended to promote younger looking skin.
Now, brace yourselves for the prices. Are you sitting down? Right, so: The Brightening Lotion Intense is €100 for 200ml, the Brightening Infusion Intense is €110 for 125ml and the Brightening Essence Intense? €265 for 30ml. Yup. That's the guts of €500 for the entire collection, which is intended to be added in to you normal skincare routine, as a three step process before your moisturiser. Oh, and don't forget to add SPF to protect all that newly brightened skin.
I probably won't be trying that out anytime soon. But I also picked up a couple of interesting snippets at the meeting, which just might be more relevant to those of us who don't have a handy money tree in the back garden: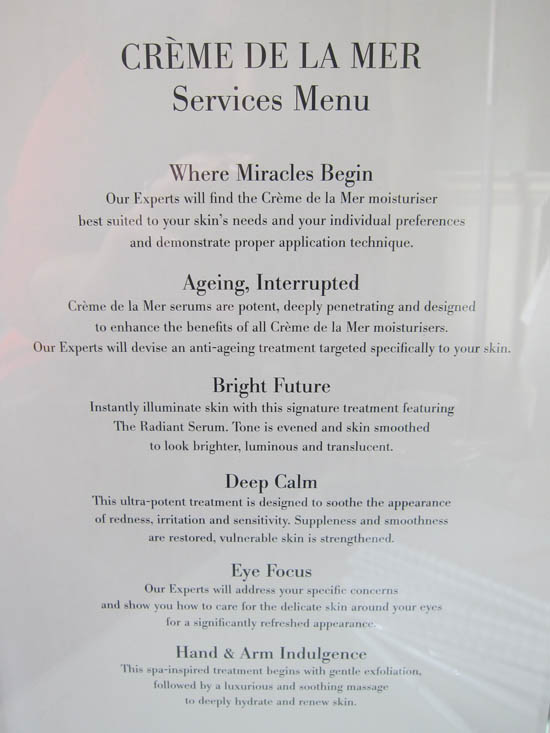 The complimentary menu of services at the Creme de la Mer counter
Advertised
The Crème de la Mer people are actually not scary in the least. They call counter visitors 'guests'. Isn't that nice?
They love it when people come to the counter. They know we are afraid and they don't want us to be. They also know that mostly, we won't buy - many of their lifelong customers replenish only twice a year. They're ok with us just looking. To begin with
To encourage more guests to the counter, they offer a suite of complimentary treatments. There is no obligation to buy. The treatment menu was just revamped and it is seriously tempting. Did I mention that it's free?