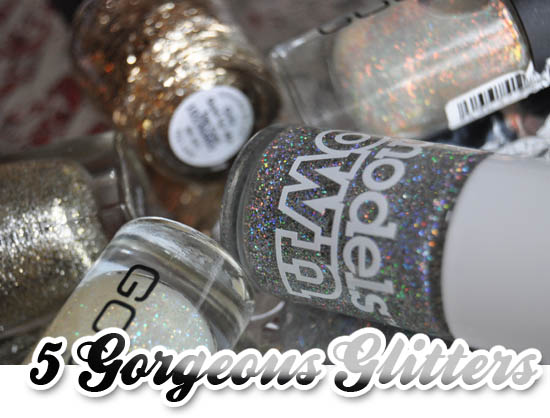 Lynnie's got some tips coming up later on for you all on how to get the stuff back off, but I'm making it my mission this AM to inspire you to apply some nice shiny glitter to your talons for Christmas. While I'm no fan of metallic polish, I do really like metal-inspired glitter and have a fair few I like to whip out when occasion demands.
Coloured glitter'll work well too - that Models Own Disco Mix and those Rescue Beauty offerings I got recently will be used by moi this festive season - but here are five gold and silvers I reckon you lot might like. Two won't be available to you currently  - one was a limited edition (Lancome BB Sand) and may be sourced on eBay and the other is a Sephora exclusive. But I hope they inspire a few light-catching talons and I've put some more recommended brands down the end of the post too.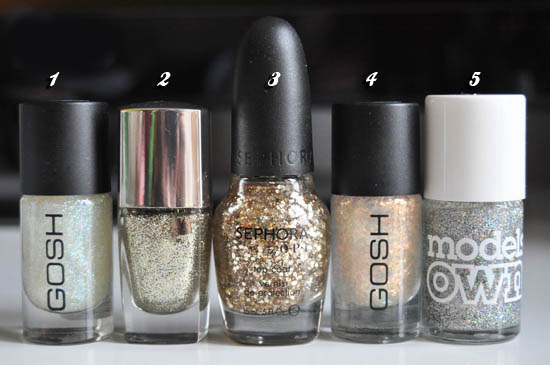 I really like Gosh's well-priced offerings and the brand has lots of nice topcoats with sparkly bits. This is Magic Star, and it's €8.50. Best as a topcoat, this isn't too dramatic when worn solo
Lancome BB Sand has made several appearances on the blog. It's a brilliant glitter: densely-packed, it's easy to apply, can be used solo, as a topcoat or for doing a French tip
I got this one in the states recently, reckoning it'd be a good bet for Christmas. It's an Opi for Sephora polish and it's called Only Gold for Me. I DETEST the bottle. Way too big and clunky, it's horrible. The glitter is good: vari-sized pieces of gold sequin apply to the nails in an irregular pattern, you can layer it up for total coverage and it's also great as a topcoat
Another Gosh offering, the much-beloved Rainbow. I picked three of these up at Xpose Xmaswhatyoumacallit so it must still be available *somewhere* if the brand still has stocks of it. If you find it, this looks excellent over darks, pales and worn solo. €8.50 again
A new one from Models Own - which really does amazing things at very good prices - is Juicy Jules. It's also around the €8.50 mark and is a holographic glitter that I am madly in love with
Advertised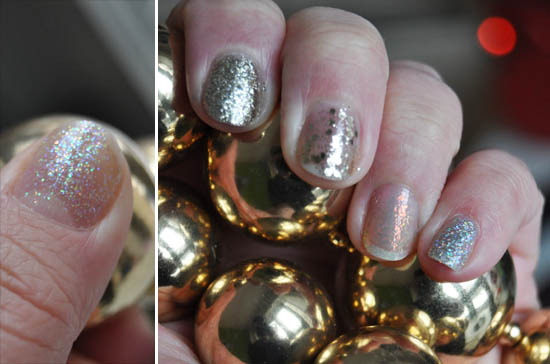 Here they are on nails in the exact same order as above. Apologies for the red, flaky, fat hands. The weather is killin' me cuticles. These are all three-to-four coats worn over a clear basecoat.
Gosh and Models Own are easy to buy here - check AWear for Gosh and Boots for Models Own (or buy online). Not doing it for you? Other good brands for glitter include:
Opi
China Glaze
Nubar
Marian Newman
Pop
Illamasqua