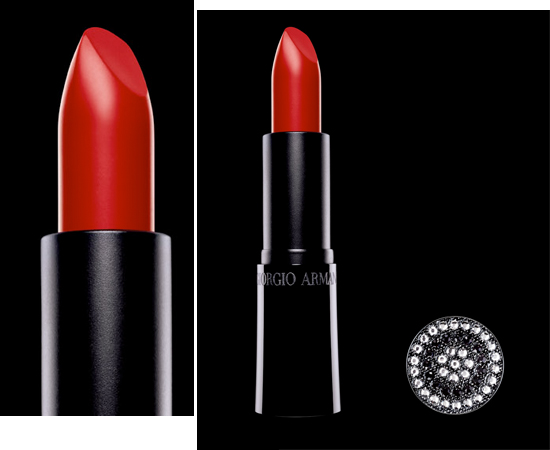 We had a gander at this divine-looking piece of beauty kit way back in October but the winter tends to be my time to wear red lipstick with impunity, and this is one I've been road-testing recently.
It's an Armani Silk lipstick in shade 95, and it's a bright, bright red with a bit of orange that works well with my dark hair and milk-bottle skintone. It's part of the Art Deco collection and is billed as a 1930s red (I immediately think of the 40s when red is mentioned for some reason), and if you've a sallower complexion it might not work so well.
The formulation of these lipsticks is beautiful - as well it might be for €35 per bullet - and the pigment and intensity is good so you're not reapplying every five seconds. Which you could construe as a bit of a shame, because this particular limited edition lipstick case is so pretty you'll be getting compliments left, right and centre. Yes, it's been attacked by the Swarovski bling gun, but in a good way, not in a Seventy-Five-Pounds-Tweezers way.
Advertised
A great red for a party, this would also make a seriously nice and luxe little stocking filler for any lady who loves red. Fellas, are you taking notes?