 I've been wearing this foundation for two days straight since the launch on Wednesday and I'm now ready to give you a full and frank account of my findings.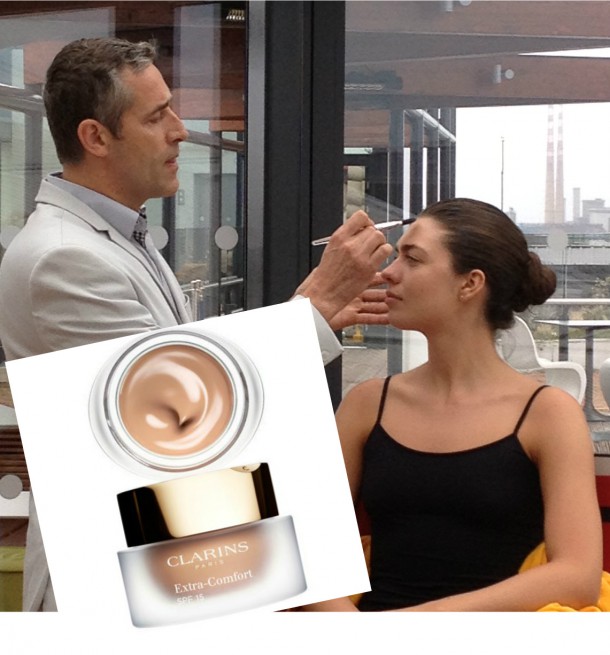 We watched enthralled as Claude Dufresne, Clarins Senior Makeup Artist and all round ridebag, deftly applied ze foundation with his magic hands and told us zome zings about it and why it's so ground breaking.  Many of the zings flew out of my head so I'm consulting my notes now.
The key difference between this foundation and others?  Ingredients that are not usually used in foundation are present and correct in this one.  It's difficult to stabilize many hydrating and moisturising ingredients in foundation, but Clarins reckon they've cracked it with this product.  Their Global Age-Defying Complex contains plant extracts of antsemby and a super high tech antiager, tripetide, which, when combined with foundation, not only help you to look younger but also delivers antiageing benefits.   Organic Argan Oil is also a great inclusion and makes the foundation feel silky and moisturising.  And of course the SPF of 15 also assists in the battle against sun damage.

Available in nine shades (or ten depending on the country you live in) I've been wearing 107 beige (€43 available in Sept).
Advertised
Now I've had a problem with full coverage foundations in the past.  To put it bluntly they're desperately unforgiving when it comes to dry skin, lines and wrinkles - they'll settle into every little teeny line, magnify it and might also cake.  You couldn't get me to wear Estee Lauder Double Wear if you put a loaded gun to my head (although I like the Light version a lot).
Full coverage foundations are often too drying and matte for the likes of me but are great for oily skinned gals.  And this is why I always go for Light - Medium coverage in foundation.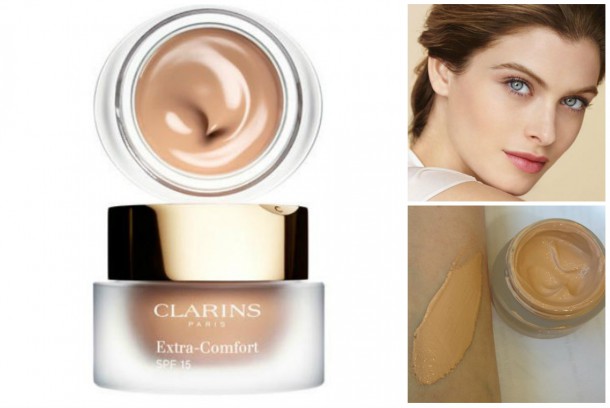 So how did I get on with this offering?  Well the coverage IS really good.  It covers any spots, blemishes and marks you might have easily and with no fuss.  Further coverage can be achieved with concealer if you need it (and Clarins have a great new concealer out soon, I'll write that up too.).
It is moisturising and the consistency is quite thick (I tried to illustrate that in the swatch), but it does blend and spread well. It does actually feel quite... well damp when it goes on.  I was going to say MOIST but I know the collective feelings of illness that word brings about.  And you can feel it - you know that you have foundation on.
But after 16 hours straight - it hadn't creased, cracked, turned into a matte death mask, or done any of those horrible things that full coverage usually does to me.
It delivers what it promises.  This is a great foundation for the 35+ age range who want decent coverage and a base that won't instantly age them by about ten years.
Advertised
If you haven't found the ONE yet and you reckon this sounds up your street - give it a whirl.