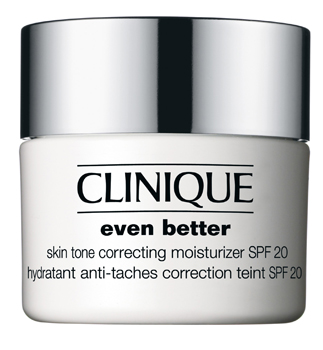 Unless you've been hiding in burrow, you'll know that skincare ranges to lighten and brighten skin are big news right now. Coming at us from Asia, Aphrodite let us in on her discoveries when she was away over in that part of the world, and if you're a regular Strawberrynet-er, you'll have clocked the extraordinary amount of brightening ranges that have always been available in from brands that trade in the Orient.
Now they've landed on our shores - we checked out one from Shiseido recently -  but lets get one thing straight. For us pale caucasian types, this stuff isn't about changing your skin colour. Rather, as we age, pigmentation spots and blemishes can appear, marking our complexions and making us appear older than we are - after all, what are liver spots but very visible markers of age? And while pigmentation can be easily zapped by an expert using laser, that can be painful and expensive. Creams have an another advantage in that they treat the whole skin, and not just one area.
So if the zapping option doesn't appeal or your issues are mild, then brightening skincare is the way to go. One of the launches I've been most impressed with is the just-on-counter Even Better Skintone Correcting Moisturiser, €52, from Clinique. Not only does it help to banish pigmentation spots, but it's also designed to be a one-pot-stop, so you get all your benefits in a single jar.
It joins the existing Even Better serum and foundation products in the brand's line-up and was eight years in the making, according to Dr Tom Mammone, the brand's executive director of research and development. We met in London during the summer, and I was taken step-by-step through the science.
Advertised
Aiming to battle the problem of age spots in the first instance and reduce the appearance of any blotchy dark patches you may already have, crucially, the moisturiser contains an SPF of 20 – after all, with sun damage being the biggest contributor to hyper-pigmentation, prevention is always going to be better than cure.
But what else is in there to work its magic? Fungus. Oh, really? Ok, not creepy things that grow in dark corners, but enzymes contained in yeast are the secret weapon in the product. Dr Mammone explains: "we grow yeast cells in big vats in the lab and isolate the enzyme to make the extract that's used in the moisturiser. Because we do it this way, we're not limited by nature – we can ramp up the concentration and make it stronger."
He's discovered that Clinique's advanced yeast blend can actually break up excess pigment. "It's very clever," reveals the good doctor. "It only works on melanin and nothing else, so it's very selectively sophisticated. The enzyme literally chops the excess pigmentation into 'dust', and it's then gently exfoliated off your skin thanks to the inclusion of some salicylic acid in the mix."
And now for the million dollar question: how long does it take to work? "In four-to-eight weeks you should see a 50% reduction in pigmentation and a more even skintone," advises Dr Mammone. But skin reaps other benefits too, thanks to ingredients like curcuma longa turmeric root extract: it's a powerful antioxidant and anti-irritant which helps fend against environmental assaults that can off set excess melanin production. There's also sucrose and trehalose to help attract and maintain moisture levels in the skin and a blend of lineolic acid, cholesterol, wheat and olive extract to help rebuild the skin's moisture barrier.
You'll find Clinique Even Better Skintone Correcting Moisturiser on counter now.