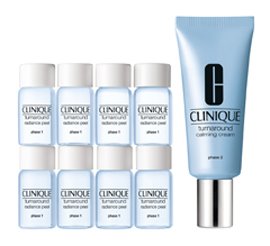 Sick and tired of winter dull skin? Regular exfoliator not cutting the mustard?
Me too. No matter how I scrubbed and moisturised my skin still looked like a lizard who hasn't washed his face in quite a while. Or ever. Combine that with a creeping use of the dreaded makeup wipes and I've been looking totally fecked recently.
But my ever abiding love of glycolics has cheered things up no end. Clinique Turnaround Brightening Peel, €43, looks swishly scientific in its little bottles and is packed full of ingredients to power through that unflattering winter dulled skinula. A blockbusting 30% glycolic - type* treatment brings this at home kit up to (almost) salon standard and is super easy to use. Cotton wool it on once a week before bed and follow with the Turnaround cream to sooth and hydrate.
Advertised
Couldn't be easier! Brightening and radiance sorted.
Now I just need to throw out the makeup wipes. Again...
*This product is not actually a glycolic acid treatment - it relies on salicylic acid to exfoliate and brighten.