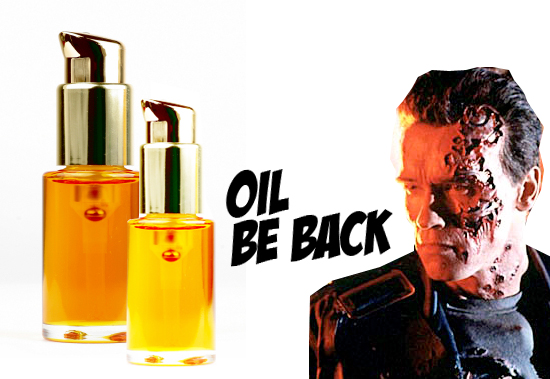 We had a big series last winter on cold weather skin-savers and now that it's bloody fecking freezing outside, it's BACK! Oh yes, back with some new recommendations and tips for keeping your hide hydrated in brrrr-style weather. However, knowing the current bananas state of the Irish climate, it could well be 20c tomorrow and we'll all be lashing on the factor 50 again.
Anyone remember when we used to have seasons? I do, sigh.
Moving on to matters at hand, I know every time we write about plant-based facial oils (this is not about baby oil or other petroleum-derived oils), we get lots of questions about them. Oils are great moisturisers and can be incredibly nourishing and soothing on the skin and they're an excellent choice for winter. Here are a few of the questions we frequently see.
EH, WHO ARE THEY GOOD FOR?
Plant-based oils are particularly excellent for those with dry skins or who are experiencing the first signs of ageing - fine lines, for example, which are often just dehydration in the skin - and oils also have what's known as a normalising effect and can be used to treat like with like. In other words, don't ignore them if you have a sebum-prone complexion. My experience with using facial oils has been around my own dry skin, but the Eve Taylor brand would be a great choice for an oilier skintype. In particular, you could check out Face Oil No 3, designed to clear and tone problem skin.

WHAT TO LOOK FOR
Most facial oils will contain a blend of different plant, flower and seed oils to deliver an optimum effect. Rose or rosehip oil is very nourishing and great at fighting off the ageing process, as is argan oil. Avocado, almond, hemp seed, chamomile and lavender are also often used.
Advertised
HOW DO I USE THEM, THOUGH?
You generally use them very sparingly, applying two-to-three drops to freshly cleansed skin. I would apply to my palms, spread by gently rubbing them together and then using them to gently massage the product into my face in upwards strokes. I tend to use my oils solo, but you can mix a drop into your moisturiser for extra richness, or apply first and then use a moisturiser over the top. You may find you only like to apply to cheeks and dry areas - it all depends on what your skin needs, basically.
DO I USE THEM INSTEAD OF MY MOISTURISER?
Oil is moisturiser, it's just not in a cream or emulsion format, so treat it as you would your regular product - if you use a moisturiser daily, use your oil daily, for example. If you find that you don't need the richness of an oil every day, then use it as a treatment a couple of times a week.
WHEN IS THE BEST TIME TO USE OIL?
I'm a fan of night time usage as I've found using oils during the day causes my makeup to slip, so I trot to bed every evening with a shiny coated face. Poor himself, eh? But equally it would not be nice if I resembled a leather handbag, so he'll just have to get on with it.
HOW DO I KNOW WHAT'S GOOD?
Here are the good'uns that we've tried and tested.
Advertised
I'd also rate Bobbi Brown's facial oil, Aromatherapy Associates' offerings and Nadur Organics Radiant Face Rescue Serum.