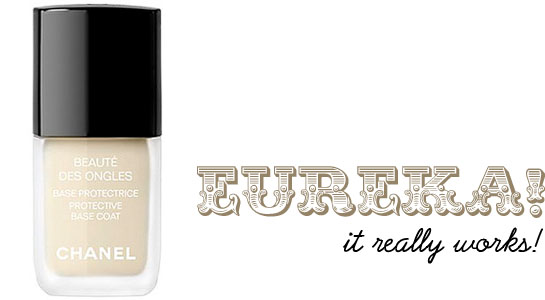 We've talked a time or two on the blog about our beauty sins - those well-preached beauty commandments (such as "thou shalt not sleep in thy makeup") that we break on a regular basis or just choose not to follow at all. And one that I've admitted to in the past is that I never use a base coat when applying nail polish. I understood the purpose of a base coat and on paper it made sense to apply one, but I was impatient enough as it was when doing home manicures and could never be bothered with the extra step of applying another product.
And then I happened along to Chanel one day a few months back and the gods were smiling on me, because I managed to get the last bottle in stock of their latest must-have nail polish shade at the time (hot pink Riviera from the Les Pop-Up de Chanel collection). Realising that she had me on the hook and seeing her chance, the sales assistant advised me that a base coat would be wise to avoid staining with such a bright shade and in my excitement I agreed and found myself leaving the counter with Chanel's Protective Base Coat in addition to the precious bottle of Riviera.
Having splashed out on the base coat, I thought I'd better get some use out of it and so I dutifully applied it under two coats of Riviera. I was pleased to find that it applied easily in a thin coat which dried quickly and best of all didn't result in the slightly tacky surface I've experienced in the past which makes it difficult to apply polish smoothly over a base coat. But the biggest and best surprise of all was that my manicure lasted five days before a chip appeared!
Advertised
This was especially surprising as I've been washing my hands a million times a day since the baby arrived and I really didn't expect a manicure to last even half that time in those conditions. I am giving a good part of the credit for its lasting power to the use of a base coat as I wasn't even particularly careful in applying the polish in very thin coats, which would usually help a manicure to last longer.
My fingernails were indeed stain-free when I removed the hot pink nail polish, but then staining isn't usually an issue for me as I don't constantly apply and re-apply nail polish. But I was impressed enough by the lasting power the base coat gave my manicure to continue to use it and I must admit that there isn't that much extra time or effort involved in applying one.
So there, one less beauty sin to worry about when I go to sleep at night (with my makeup completely removed, of course).