 Now, obviously Crème de la Mer is a spendy brand and isn't for everyone but there's always lots of interest when it launches a new product (and at the press launch I was interested to hear one of Ireland's most respected beauty pros mention that she buys La Mer. High praise indeed.) I'm not mad about all the range but this new addition, which reaches counters next month, is very nice indeed.



The new arrival is The Illuminating Eye Gel (which is €125) and it's designed to deal with the first or early signs of ageing. The brand already has a couple of richer eye creams but this one is a light pearly gel which focuses on brightening. 

According to La Mer, the human eye blinks an average of 12 times per minute - about 10,000 times a day and 4 million times a year. So, y'know, the area works pretty hard and is also particularly delicate because skin is so thin around the eyes. 
The new eye gel contains the brand's patented Miracle Broth (based on sea kelp) as well as two new ferments, and sea pearls which give an instant radiance. The Illuminating Ferment works to help combat dullness and contains anti-irritants to help to soothe while the Awakening Ferment has minearlised algae to smooth and antioxidants to protect.

The texture is lovely and just melts into skin without leaving any residue. I find that I've been using it every day, when usually I'm a bit hit and miss with eye creams, even though I know they should be a daily skincare staple!
Advertised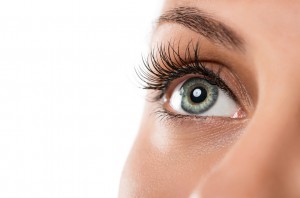 This one can be used all over the eye area (on lids too) and it works really well as an eye primer - so there's no waiting for a rich cream to absorb in, or tapping it gently on the orbital bone and having to avoid the rest of the eye area. 

You can mix it with your undereye concealer too and can even use it on the lip area (which is also prone to fine lines).

It's on counter next month - but if you head along to a La Mer counter now, you might be able to get your hands on a sample.