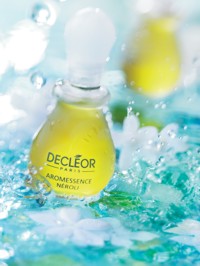 Adorable. That's the best word to describe my therapist, Caroline, at Nu Essence. The Decleor facial she prescribed for me was exactly what I needed, managing the seemingly impossible task of being both refreshing and soothing at the same time. Casting her expert eye over my face, she made her pronouncement: my skin is STILL dehydrated. I can't believe it! Ungrateful skin. The water that's been drunk, the creams that have been purchased, the hydrating face masks it has been lavished with. And it's still feckin parched.
Every Decleor facial begins with a back massage I was delighted to hear. Thus, the scene was set for some serious pampering.
A Hydaforce facial infuses your skin with vitamin C, wild pansy, mint and orange floral waters. My face was cleansed with Reflet de Purete, a product that is only available in salon as it is so powerful. It was then time for the extractions - hurrah! "My favourite part" Caroline confessed giggling. Well, you know how much we hate areas of er, congestion, at Beaut.ie. Some would say we're a little obsessed with them. And the purging of them. So it's bleedin deadly to find a therapist who likes to expertly clear them up.
Then comes the Hydrafloral mask - icy cold, be warned; the hand and arm massage; the neroli oils... Extracts of grapefruit, parsley, mint, orange, hazelnut oil infuse the creams and oils and ungents used in this facial. I've always been a big fan of Decleor, now even more so.
Advertised
This facial is luxurious. It's indulgent. It's relaxing. And my skin felt so nourished and hydrated afterwards. It's fantastic as a pick me up - it plumps up fine lines and if you're worried that the years might be taking their toll then this is the facial for you. Highly recommended. Ring Nu Essence on 01 6716443 to book one for yourself or one you love very much. And ask for Caroline.
Nu Essence are located at South Anne Street, Dublin 2.Tel: 01 6716443 or e-mail them at [email protected]. They also have a huge range of other treatments available, using the most gorgeous products - Carita and Gatineau and of course microdermabrasion, which Kirstie had, are all available as well. And men are of course very welcome at Nu Essence too.