 When I saw Aisling's post about Ciate's new Chalkboard Manicure kit, I knew I had to try it out. Doodling your own nail art - what's not to love?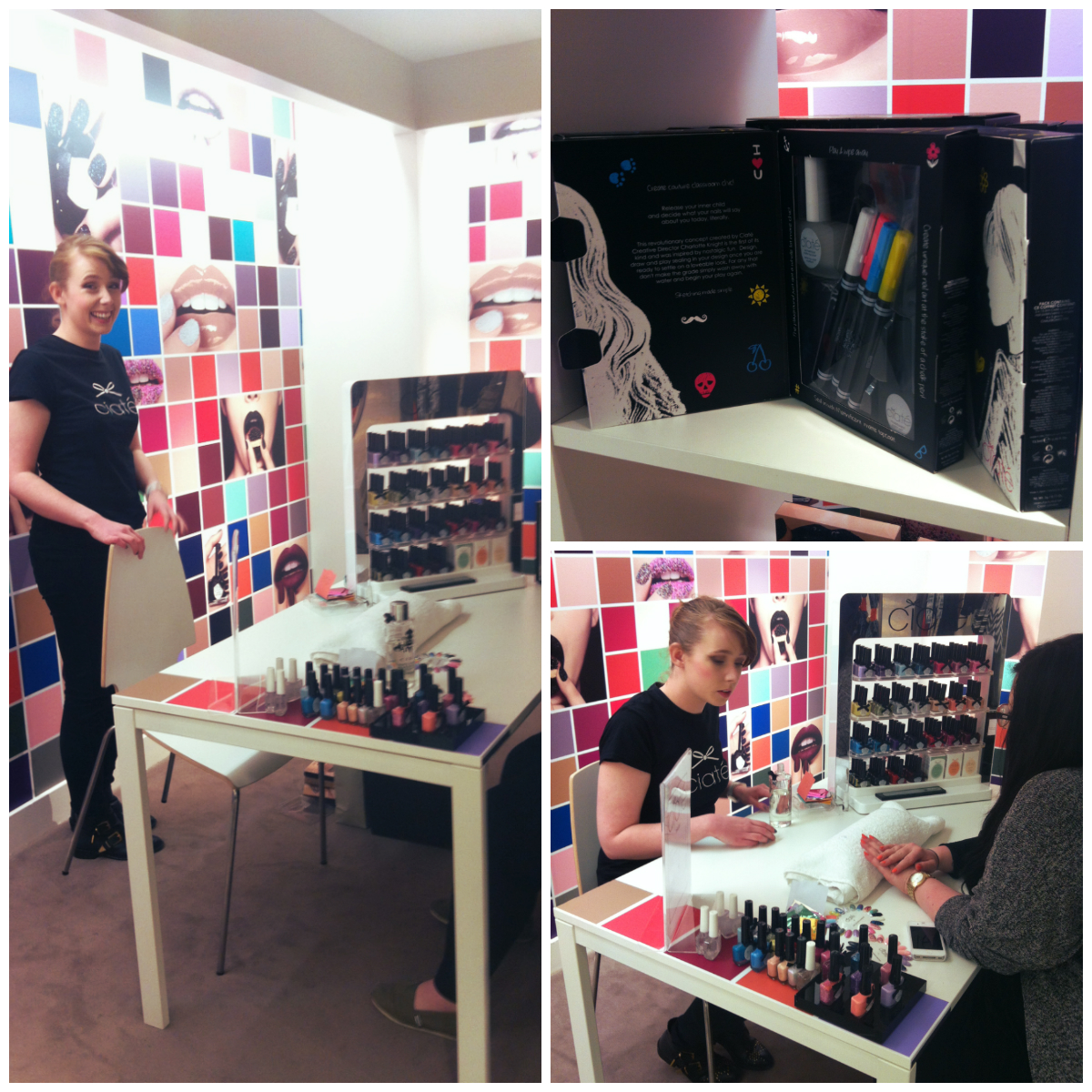 However when I arrived at the pop-up nail bar in BT2 Grafton Street, I was taken by the Colourfoil manicure set. Simply paint your nails, add a bit of glue, apply the foil and enjoy the funky gold-leaf look. Here's how it looked just after the application (featuring my a sneak peak of new dream shoes in the background):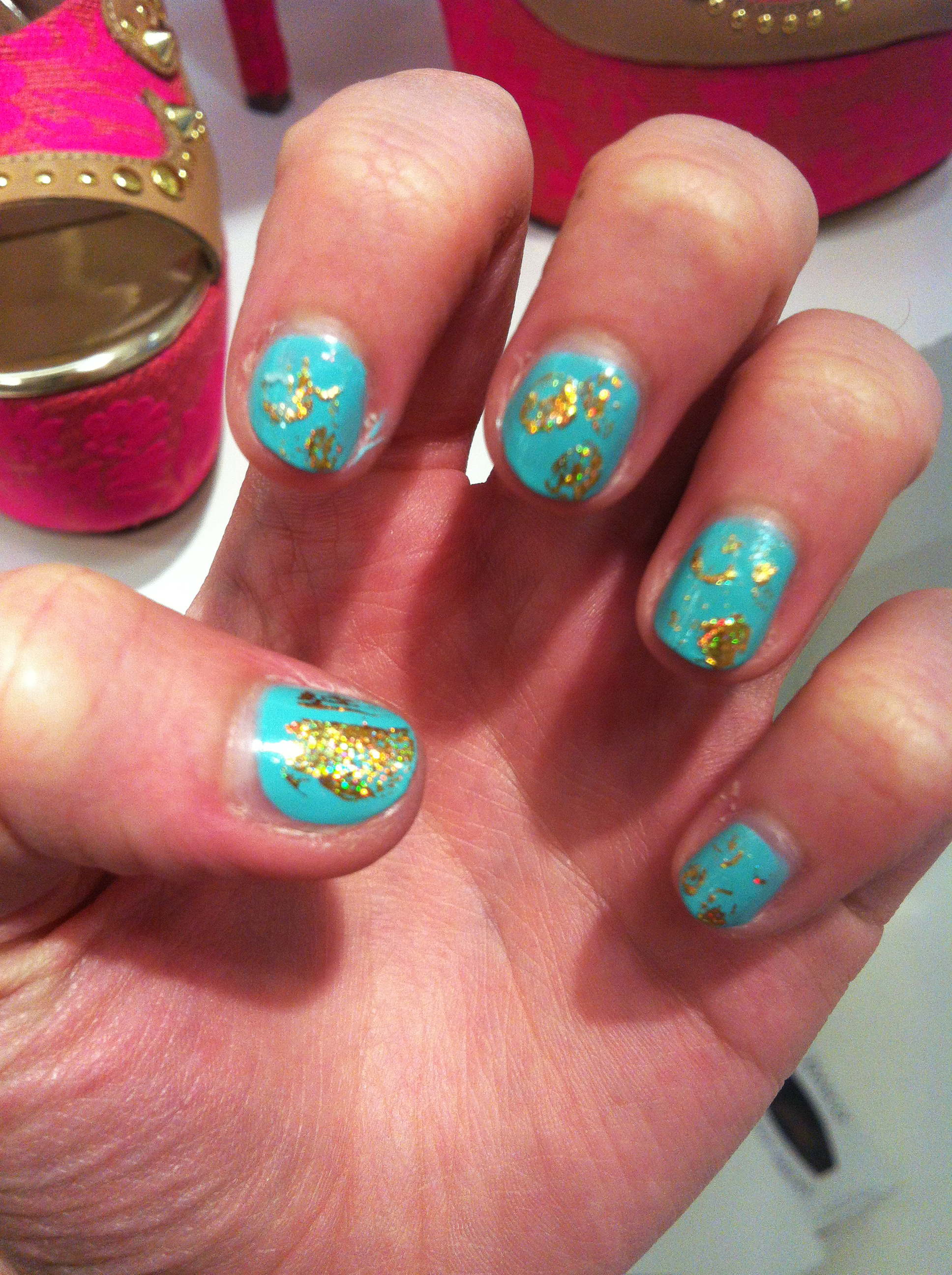 Cute, right? I'd probably have put a little more foil on if I did it myself, but I liked the idea.
Sadly, it didn't last long. After about two hours the foil started to get black and grubby and peeled right off. Disaster! Probably didn't help that I was moving into a new house that day - but saying that, the Ciate polish underneath didn't chip at all. I think if I do it again myself I will definitely use less glue and apply a top coat to see if that adds to the staying power.
Advertised
The folks at Ciate kindly gave me a Chalkboard Manicure kit to try out at home, so after the foil manicure fail I got straight down to business with the chalk nail art pens. I don't have much real estate on my nails at the moment - if I don't have polish on for more than a couple of days I tend to gnaw at them - so I stuck with simple designs. Here's three choice nails (the other two were woeful, soz):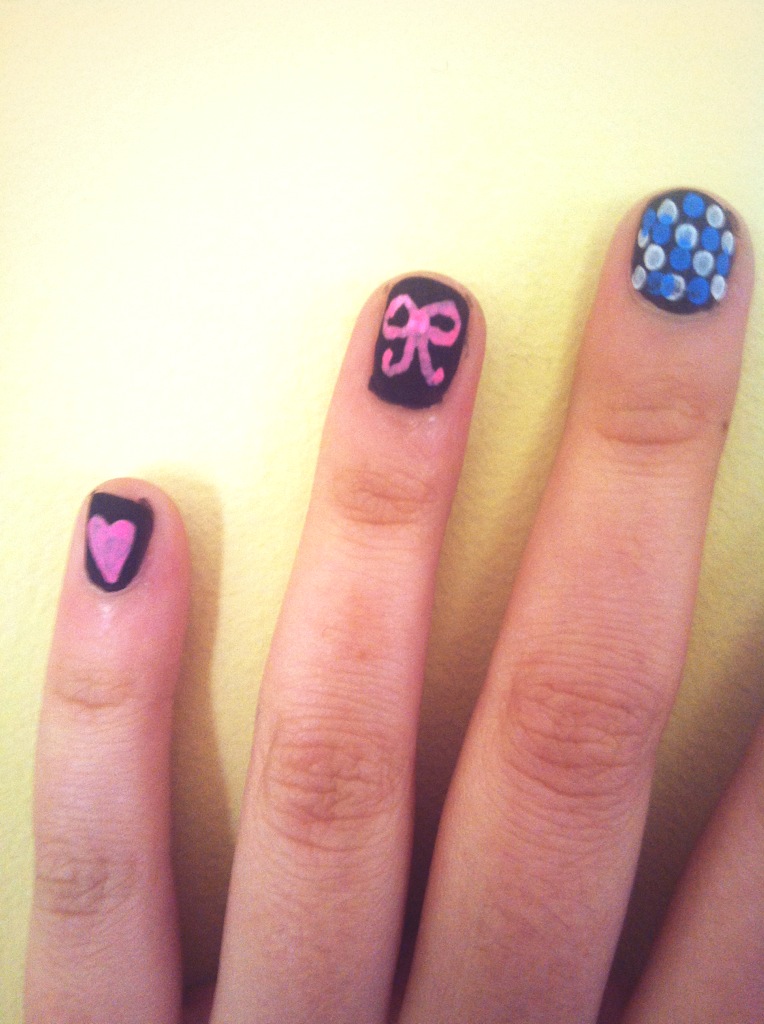 It says on the box that you can wash away any mistakes with water, but after drawing an extremely wonky star on the nail of my index finger I found this wasn't so. Water took away just the middle of my poorly-drawn star - and the matte black nail polish with it. So I had to remove all the polish on the nail and start again. Which wouldn't have bothered me (my nail art skills are extremely poor, so two or three goes at a simple heart is standard procedure) but it should preferably do what it says on the box.
Also, this kit is probably better suited to ambidextrous people. While the nails of my left hand are now beautifully decorated, the nails of my right hand are bare except for a coating of the black matte nail polish that came with the kit (which looks very stylish, so I don't particularly mind). Still, it's a lot of fun - though I think for the sake of maturity I will be going for one or two accent nails as opposed to a different design on every finger.
What do you think - Chalkboard or Colourfoil? If you want to try the kits out for yourself, the Ciate girls will be doing free demo manicures in the pop-up nail bar in BT2 Grafton Street for the month of June. Head on down!
Advertised
And remember the great competition we've got running at the moment - you could win yourself one of five Ciate Caviar Kits