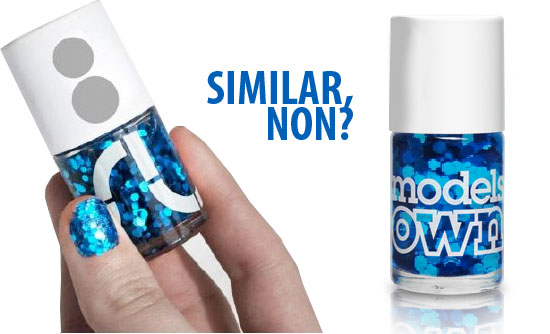 The beauty blogosphere went a little crazy a while back for Uslu Airlines' nail polish collab with cult French department store, Colette. As you can't pick up Uslu Airline's stuff in Ireland I didn't think much more about it - despite having it in my hand when I was in Colette recently, the €24 tag was a bit  steep - and forgot all about its sequinned blue goodness until I was in River Island the other day.
For there I espied a Models Own polish for a mere €6.50 that is pretty darn similar - if not practically identical - to the Uslu Airlines/Colette version. And a heck of a sight cheaper, too. The only irritant in this is that Models Own is only gettable in selected River Island stores here (Liffey Valley, Blanchardstown, Henry Street and Dundrum as far as I know) which is a pain in the arse, and they don't ship to Ireland either.
Advertised
But if you happen to be in one of the above stores before NYE, then snap it up - it's a great party polish and a pretty darn great dupe for a hip, high-end product that's been sending fashionistas wild the world over.