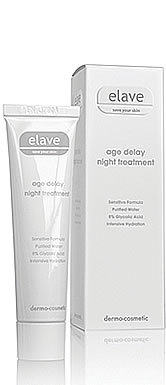 We had a fantastic elave competition before Christmas, in which two lucky readers got to win a range of products from elave's new Dermo Cosmetic range. This is a range of Irish made skincare which is free from unnecessary sensitisers like perfume and dye and harsh chemicals which can dry out the skin's epidermis. They only add ingredients to hydrate, plump up and repair skin.
If you have sensitive skin, this is the stuff for you. And even if you don't, these are fantastic, effective products that anyone can use. Those of us with normal - oily skin can generally take advantage of all the skincare offerings out there and can slap anything on - products packed with fragrance, colour and all manner of stuff. We're spoiled for choice and I know I take advantage of that.
But in the past while I've become concerned about the effects chemical preservatives have, and if you're a regular reader you'll know we write regularly on on the cons of using products full of artificial preservatives and paraben-nasties. People with reactive skin types have had to always avoid the sort of stuff we take for granted, and they're probably by far the better for it.
So the elave Age Delay Night Treatment was a product I certainly greeted with open arms. The packaging is clean and simple, and adds gravitas to the claims elave make for the whole dermo cosmetic range. The night treatment cream contains 8% glycolic acid - this is a brilliant idea, as it resurfaces your skin as you sleep, meaning it truly is hassle free.
Advertised
Over time, your skin will see the benefits of this including a brighter, more refreshed complexion, less pigmentation and you may even see a reduction in fine lines. Other than that, the cream also contains nourishing goodies and you will wake in the morning with clear, soft skin. I can attest to this - it's fantastic stuff. Since I've been using it, my skin is clean and clear and I feel very much that it's doing its job.
What you won't get from this range is fancy, frilly packaging, whipped formulations and absurd claims. What you will get are excellent products that perform - and perform brilliantly.
You can buy elave products online, or from chemists and the Age Delay Night Treatment will cost you €65.