 I've long waxed lyrical about Emma Hardie's Amazing Face Moringa Cleansing Balm and it's the one I reach for to remove my slap of an evening.  There's something so satisfying about emulsifying the oil rich balm and creating black panda eyes that wipe off smoothly with a cloth isn't there?
So when Emma Hardie was in Dublin town the other week I had a million billion questions for her.  Even though she was at the end of a long day and relaxing with a glass of bubbly, she left no question unanswered and no product left sitting on the table that I didn't pounce on to exclaim "tell me about THIS!" .  She also gave me an exclusive go of her new serum, which I hurried off home with to apply to my phizzog, pronto.

So what pearls of wisdom did I glean from her?
ONE: An expanded range with an anti ageing line
She's expanded her range and packed it full of science.  Although she still remains true to her natural roots, the new Age Proof products are light in texture and contain collagen, marine ingredients and peptides, including Matrixl, which is widely believed to be the most effective peptide on the market.  "But honestly"  I asked her, "Do you think peptides can effectively penetrate the skin's surface and work deep enough in the dermis?"  Yes, says Emma - she believes that using ingredients with molecules tiny enough to be absorbed makes a real difference.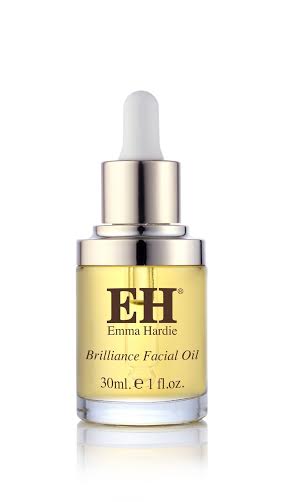 TWO: There's a new facial oil and serum in town
"WHY is everyone in Ireland so excited about the facial oil?" she laughed, after a day of meeting the Irish meeja.  And it's true, we are crazy about facial oil here, rosehip oil in particular.  Emma (like la Hirons) prefers a a blend of oils and a mix of ingredients. Her new serum is lemony and really rich - you honestly only need one drop. After slathering it on enthusiastically the first morning I used it, I saw my makeup slide off my face by lunchtime.  So go easy.
She also shared a precious little sample bottle of the new Miracle Touch Serum with me and this product raises Emma Hardie into the super premium skincare market.  It's light, very hydrating and glides on after cleansing, reminding me a lot of a serum by Decleor (Prolagene Lift) which I also love. The bottle/vial/dispenser isn't available yet but it's very space age and no other product IN THE WORLD can deliver its wonders.  For now though you can be satisfied with a pic -the serum itself will be available in a few months and we'll keep you posted.
Advertised
THREE: Facial massage can smooth away those lines
Emma recovered from a long term illness which left her skin in shreds: this was her motivation to develop the Amazing Face range and to retrain as a facialist.  Her facial massage technique is legend and she shares her tips on her website with little taster videos.  You can watch them all here.
FOUR: Why is there a foaming cleanser in the range?
Normally I'd run a mile at the sight of a foaming cleanser (they're typically harsh and astringent), so I wondered why there's one in the Amazing Face range.  Turns out that the name Moringa Foaming Cleansing Wash is really misleading.  It is a really light foam which acts like a very gentle and refreshing...toner.  Pumpkin enzymes are the key active ingredient and they exfoliate and remove dead skin cells.  I've been using it as a morning time cleanser and its also great after you've used the cleansing balm - leave it on for a minute or so to let the enzymes go to work.  It would be great if they renamed this product, because now I know what it does I really like it.
FIVE: She doesn't like toner
So we kind of established during our discussion that you could use the Foaming Cleansing Wash as a toner but in general Emma is not a fan of toner - particularly the glycolic kind.  You just don't need it she reckons, it's a marketing thing, and this is something I've often said too.  Toners are changing, but many of them are still alcohol laced and drying to skin.
"Blasphemy!"  I can almost feel some of you shriek - those of you who love Liquid Gold, Clarins and Pixi exfoliating glycolic toners in particular.
Food for thought though and I'm kind of with Emma on this one.  Overuse of glycolics brings me out in a lizard like heap of dry skin and there's no way I can use them daily although I do love them occasionally.
Advertised
So what's next for Ms Hardie?  "Something amazing!" she declares, draining her champers.  "It's going to change the world".
Head over to Beauty Call in the Irish Times to read more!