 I took myself off to Harvey Nichols in Dublin's Dundrum Shopping Centre to check out Environ last week.
Environ is a slightly different brand - using their products is very much a collaborative enterprise between you and Environ's skincare professionals. Products are used in conjunction with supplements and regular treatments to what appears to be great success.
I often encounter people who brands claim to be their on-counter skincare professionals. Generally, I'm pretty unimpressed by their knowledge of the skin. Not so with Environ - I was lucky enough to meet Michelle, one of their counter staff. Her knowledge of the skin was incredibly impressive, and she talked me through the scanning process and their product range in a way that really gave me confidence in the brand.
The Environ product range is based around high dosage Vitamin A and C topical products as well as supplements and treatments. Since retinoids can be strong and the skin needs time to adjust to their use, Environ use a step-up system. They have a one-stop moisturiser for both day and night - you start with the mildest formula and work your way up over time. Retinoids are incredibly effective in skincare; they thicken the skin, are very effective anti-agers and are great for acne and scarring. High dosage Vitamin C is really effective for sun damage, pigmentation and (red) acne scarring.
The most fascinating part of the process was undoubtedly the skin scan. Since the products you use are chosen in consultation with an Environ skincare professional, you undergo a diet, skincare and lifestyle questionnaire and then a scan.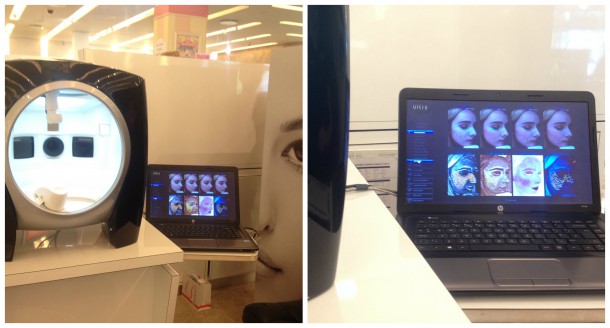 The scan is not at all scary. You rest your chin in the little machine (pictured) just as you would for an eye test. The machine takes three pictures and the resulting photo shows where your fine lines are beginning to develop and where problem areas are, UV damage, pigmentation, redness and bacteria on the skin, dehydration, pores and congestion, among other things.
Advertised
I was able to see from the scan where my delicate areas are in terms of UVA damage (that one was a bit scary, since damage has occurred despite my diligent use of SPF). I was also fascinated to see the bacteria level on my skin. We all have them and we all need them, but if you have too few or too many, then the PH of your skin is off and this will create problems.
I was relieved to find out that overall, my skin is doing pretty well though there are a couple of things that I need to watch. After the scan, I followed Michelle to Environ's Treatment room. It's a little oasis of relaxation in the midst of Harvey Nichols. I loathe treatments that take place on the shop floor. In order to relax, I need to be somewhere quiet where I feel that no one is gawking at me while I sit there with a shiny face.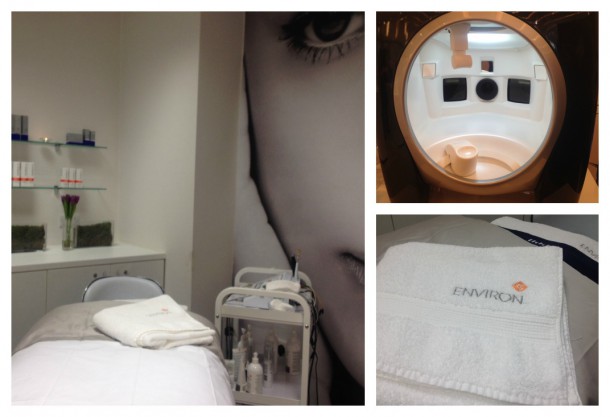 Environ use a machine designed by their founder - Dr. Fernandes, a South African surgeon - to push products very deep into the skin using sound waves. Since they've patented it, you won't find this technology anywhere else for a while. You can feel it working. It tingles in places and stings in others, but is in no way painful. The experience was relaxing and not at all uncomfortable, and it was followed by a lovely facial massage. I happily boarded the Luas home makeup-free with glowing skin.
This is all great. So is the fact that Environ will tailor you a skin regime. They'll choose the products best suited to you, they'll assign you a supplement regime just for your skin, and they'll do regular treatments to compound the effects. The results, long term, are quite amazing. The reversal in pigmentation, age spots and fine lines in their studies is like nothing I've seen yet. The downside is that anything bespoke is always very expensive. It is really a long term investment in your skin. The price will vary depending on what you need and want, as well as what the folks at Environ advise for you.
However, I'd definitely recommend heading in for a consultation. The scan alone is fascinating to see and pinpoints exactly what your skin is lacking, which is very helpful even if you decide against using Environ products in the long run. Also, the facials are fully redeemable on three products purchased, and product prices start at €20, so it's worth a go!
Advertised
Have you used Environ products? Are you devoted enough to your skin to give something like this a go? Let us know in the comments!