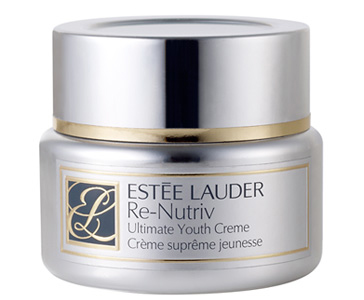 April asked us yesterday on the blather if we'd tried Estee Lauder's Re-Nutriv Ultimate Youth Creme. A premium product, it's the flagship of the anti-ageing Re-Nutriv line, which also includes a fab hand product, body cream and other skincare like cleansers, toners and moisturisers. At €245, the creme is not something you'll buy on a whim. But most importantly, is it worth that splurge?
As it happens, I'm a bit of an expert on this pertickular product, because I went to the launch of it in Zurich last year. Something that is this expensive has a lot of research and science behind it, and the launch tends to happen with a bit of pomp and ceremony. In this case, we were graciously wined and dined, and treated to a lot of science-speak and presentations about the capabilities of the youth molecule the company is using, how it works on skin, and what it does to preserve a youthful appearance. In a nutshell, Dr Daniel Maes, Estee Lauder's vice president of global research and development, asserts that this product can actually fix damaged DNA in skincells, keeping them intact for longer.
Why is that good? Well, basically, he reckons we all have a pre-programmed number of skincells, and once we use them up, that's it, they're gone. Skin will rapidly thin and ageing will accelerate. Opposed to procedures like microdermabrasion or excessive exfoliation, his thesis rests on repair, not removal. So Ultimate Youth Creme was developed to heal cells that have been ravaged by environmental aggressors like climate changes, free radicals and the sun.
Advertised
The product itself is a fairly runny off-white cream that smells good. Luxuriously packaged, it comes in a silver pot, nestled inside a fold-out silver box. It doesn't contain an SPF - but lots of premium skincare doesn't, especially when it contains actives - and it feels great on skin. It's wrong of me probably, but I've been saving mine! Because of what it's designed to do, really anyone post-30 can start to use it, and it's also packed full of the regular things to do what we expect our moisturisers to do - i.e. hydrate well.
So, the verdict? I'm frequently impressed by Estee Lauder's science and think they provide products that perform solidly. From all I heard and saw, I'd say, if you're into insurance and future-proofing and you've got the cash to spend on Ultimate Youth Creme, then by all means, go for it.