 We neglect the skin around our eyes. Even those of us with devoted skin routines will often skip eye cream or use it just once a day. You probably moisturise morning and evening - so why ignore the eye area?
The delicate skin around the eyes can't absorb most facial moisturisers and can often become clogged with milium cysts (milia if you're unlucky enough to have more than one). These are protein-filled cysts which occur under the surface of the skin. They are not clogged pores, and so you need to break the skin to remove them. Read up here on how to do it safely. They can be removed, but I think we'd all rather avoid them in the first place.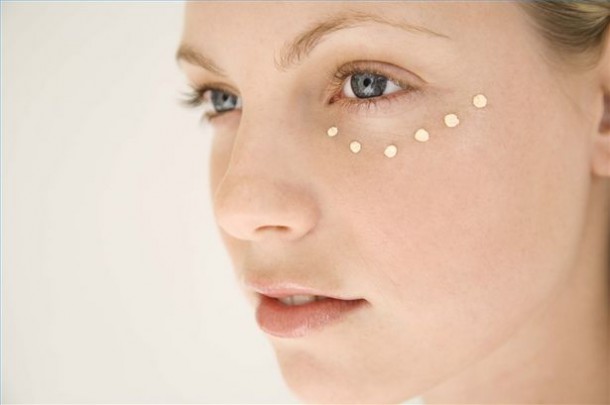 I find that I get these when I use an eye cream that is too rich, so it's important to choose the right eye cream for the skin. Apparently we shouldn't just bang it on either; there's a method! Here are a few of the best and I've divided them into high-end and affordable, so hopefully there's something here for you.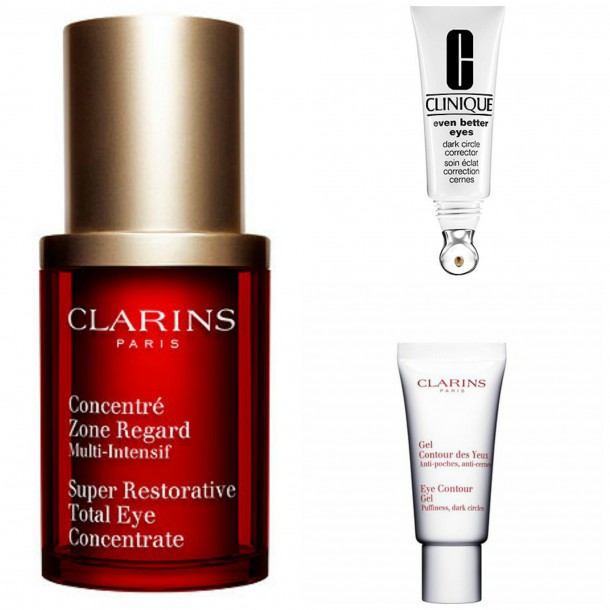 High-End
Clarins Super Restorative Total Eye Concentrate (€61 for15mls)
This is by no means a cheap option, but if you're over forty it might be just what you're looking for. This will overload and clog younger skin, but provide more mature skin with the  nourishing it needs to maintain the skin at its best. It has a pleasing, non-sticky consistency and absorbs well.


Clinique Even Better Eyes Dark Circle Corrector (€39.50 for 10mls)
This eye cream claims to lighten dark circles over time. It didn't do that for me, but it moisturises very well without blocking pores and the cool, smooth metal applicator provides a lovely depuffing and cooling sensation in the morning. This does produce a visibly less puffy appearance to the eyes. This cream is also slightly tinted to help camouflage undereye darkness. It all helps!
Advertised
Clarins Eye Contour Gel (€34.50 for 20mls)
Another offering from Clarins, this classic is a slightly more affordable option than the Clarins eye concentrate and is also more suited to younger skin. If you have oily eyelids, then this gel is for you. The non-oily consistency hydrates nicely and dries in to provide a nice base for eye makeup.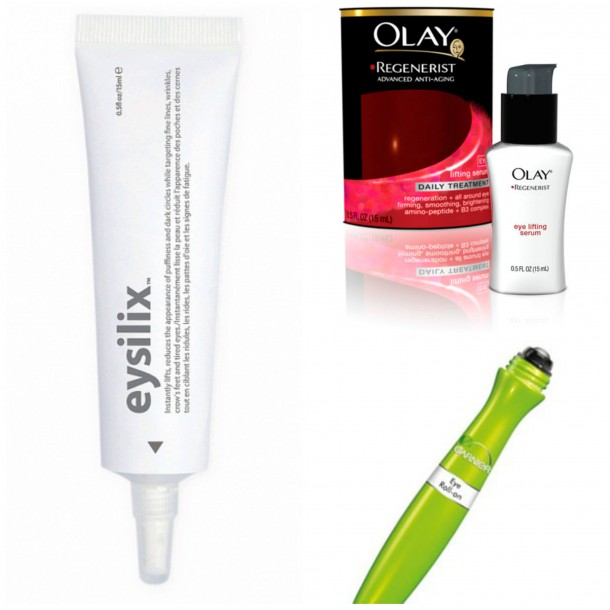 More Affordable
Indeed Labs Eyesilix Instant Eye Rescue (€32.50 for 15mls)
This eye cream from the makers of wonder product Hydraluron is a wonderful everyday eye cream. It ticks all the boxes - it's good for puffiness, dryness, dehydration and general dullness and will improve the appearance of fine lines on a set of tired,  Monday morning eyes. It is potent enough to make a difference but won't clog your skin. What more could you want?
Olay Regenerist Eye Lifting Serum (€20.19 for 15 mls)
A serum is a great option if you want a lighter consistency without compromising on the potency. Of course, a serum can be applied under your eye cream for increased effect. This one hydrates skin nicely and absorbs well to leave the skin with a pleasantly taut sensation. It claims, with consistent use, to brighten the eye area.
Garnier Caffeine Eye Roll-On (€13.69 for 15mls)
Advertised
We keep talking about this old reliable, but that's because it does what it claims to. Like the Clinique eye cream above, it features a lovely metal applicator which cools and depuffs eyes as you apply it. And caffeine can only improve things, right?
What are your thoughts on eye cream? What are you using?