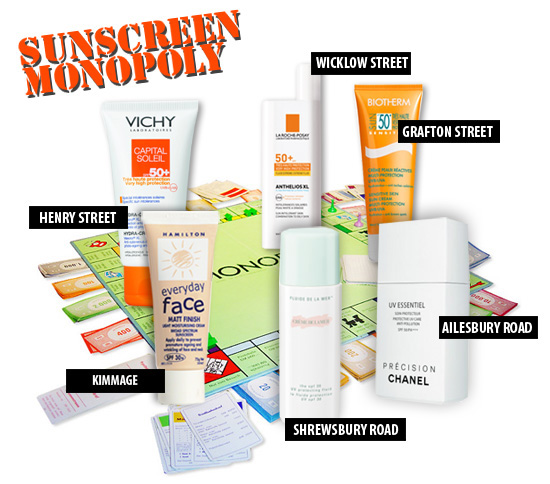 In post-Celtic Tiger Ireland, you could argue that postcodes are starting to matter a little less. What they are still very useful for is as a measure of how posh - or indeed, how un-posh - something is. So I thought it'd be very handy to categorise some current facial sunscreen options according to the famous 1972 Dublin Monopoly edition.
Want Ailesbury Road-levels of exclusivity? Well then, ladies, you'll be shelling out the shekels, so. But if you're more a Crumlin or Kimmage type, these days, you're equally well covered (ba doommm tssssch).
Lets get on with it: here's my Monopoly-inspired pick of physical/chemical UV facial protectors to see you right this coming summer:
Kimmage
Cheap and cheerful, Hamilton's excellent Every Day Face SPF 50+ sunscreen is a big hit in its native Australia, and costs a mere €11.98. Some may find it a little heavy and it might not be suitable for the very sebum-prone, but normal-to-dry gals will find it provides good moisturisation and protection.

Henry Street
A true high-street brand in this country, because it's available absolutely everywhere, Vichy is easily one of Ireland's top skincare lines. Good science and great prices mean I rate their sunscreens very highly. New this year is Capital Soleil Hydra Cream Face SPF 50+, and at €18, an affordable handbag essential.
Advertised
Wicklow Street
Posher again are La Roche-Posay's offerings. Check out Anthelios Fluide Extreme 50+ Facecare €21.50, which is a light fluid that's good for normal, combination or oily skin.  The clinical packaging means Even Men Might Use It, which is obviously a good thing, and if you want a bit of extra coverage, it also comes in a tinted version: Anthelios XL Tinted Cream 50+ Facecare is €19.50. Bag both at good pharmacies.
Grafton Street
Newish to Ireland and still a bit exclusive is the Biotherm brand. Their brightly packaged Sun Sensitive SPF 50 contains the same technology as its La Roche-Posay cousin as well as Biotherm's sea water magic mix, and is available at Debenhams branches for €24.

Ailesbury Road
One of my absolute favourite products of last summer was Chanel's super-stylish little bottle of sunscreen-wonder. UV Essentiel is about €40 but worth it. Silky-smooth with a milk texture, it absorbs well, wears excellently under makeup and is an all-round great buy. It should last 36 months but don't do what I did with mine and leave it in the warm bathroom all winter: it will smell ganky when you drag it out for next years use. Le sigh.
Advertised
Shrewsbury Road
Oh, it's got to be la Mer, hasn't it? The smelly Chanel debacle means that their SPF 30 UV Protecting Fluid is the product I'm currently trialling. This sleek-looking 30ml bottle costs €91, but is a lovely cosmetic product: easily absorbed, it's silky-smooth and wears really well under makeup. I've been using it on my chest too, and am happy to report no congestion or blackheads, which can often happen with heavier formulations. It is expensive, but if money's not an issue, then this is a proper posh purchase that performs. (Phew! I'm alliterated-out!)