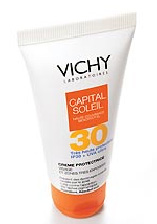 It might still be chilly out there, but in between hail showers the sun has been shining and letting us know that it's definitely time to think of sunscreen, if you haven't already been doing so. I make do with a moisturiser with sunscreen included during the winter months, but in summer I do like to use a proper sunscreen product, and I was pleased to discover that Vichy have launched some newly formulated products in their Capital Soleil range, which is tailored for normal to dry, combination to oily, mature or sun-sensitive skintypes.
For normal to dry skintypes, the new Fresh Cream formula provides hydration while also preventing that shiny finish some sunscreens can give. Combination to oily skintypes should love the Ultra Fluid formula, which dries quickly to a matte finish. The Pro-density products are aimed at very dry or mature skintypes and sun-sensitive fair skins will be well-protected with the Anti-reaction sunscreen in SPF 50+. Products are available in SPF20, 30 and 50 and all have broad-spectrum coverage to required EU levels.
Advertised
Vichy sunscreens for the face are priced at around €17.50 and are available from pharmacies nationwide.