 NYX have launched Sweetcheeks blush palette and its got 8 blushers in it. Yes 8 for less than a score!
The palette has great diversity in it's colour range. There are two shimmering blushers and six are matte. They have a range of coral and peach tones, a more natural nude blush along with pink shades and a scarlet red. The pigment in them is strong but very blendable.
NYX Sweetcheeks Blush Palette €18.50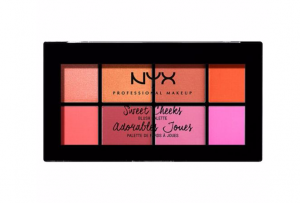 You know how sometimes you look at a palette and think 'I won't wear that colour so it's a waste'? Well it's safe to say there is no shade that would be left untouched in this one. That scary looking scarlet red would be perfect for a 1920's pin up makeup look. Even if some of the shades are too peach or too red for you they will be stunning mixed with the other colours. For instance you could mix the shimmering peach with any of the matte blushes to instantly give it a golden undertone to highlight your cheekbones.
A little pro tip is to encorporate a little of your blush colour into your eye makeup. Your eyes and cheeks will compliment each other nicely. You can just add a bit of the blusher to the centre of your eyelid directly above your pupil. We are loving the second peach blush in the top row. It will give you a gorgeous golden highlight.
Advertised
Let's hope NYX keep bringing these quality professional makeup palettes at very nice prices!