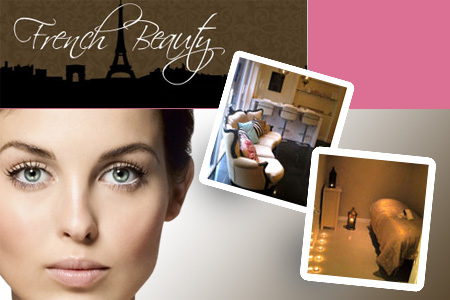 Last week I mentioned that I'd taken a trip to Dublin's newest day spa, French Beauty. Ideally located for city-centre dwellers, the Castle Street location means it's a short walk or bus journey from most of the inner suburbs. Me, I strolled over from Stoneybatter in about 15 minutes. Perfect.
Diana Nouchi, the spa's Gallic owner, asked me what I thought people were looking for in a salon experience. "Calm and relaxation", I said, adding, "good product ranges, effective therapies and the ability to ask questions if they want some expertise, but not to be bombarded with sales-talk". Considering that, I think that French Beauty has the right stuff in spades. A quiet setting - Castle Street runs parallel to Dublin Castle and Lord Edward Street - gives the necessary calm, and product ranges like French spa brand Matis and OPI for nails, guarantee effective therapies. Things are done just a little differently here - the music, for example, isn't the average run-of-the-mill pan pipe malarkey (which I detest) - nope, your soundtrack includes St Etienne, Massive Attack, Horace Andy and Beth Orton.
I was booked in for a Matis Aromatis Facial, a maximum intensity oxygenating treatment to combat the signs of ageing. I needed this - I've been really bad with my skin recently due to a combination of tiredness and not having enough time to properly cleanse. That's left me with a dehydrated, stressed and blemished face that needed urgent rescuing.
Advertised
The Aromatis is no mere facial - a lot of attention is paid to decollete too, making it brilliant for anyone planning a big night out that involves a dress baring flesh. There's also lots of massage on the back, neck, arms and shoulders to really push the product into the skin, to encourage blood flow and to de-stress. Facially, skin is throughly cleansed, toned and hydrated through use of creamy cleansers, masques and gorgeous-smelling potions. Lips and eyes receive special attention, and light facial massage techniques soothe and plump skin. Extractions also form part of the treatment, meaning that it's a properly effective and thorough therapy, and you will see results afterwards.
€80 for all that targeted attention over about 60 minutes seems like a bit of a bargain to me, but if you're not in the mood for a facial, they also have a really sweet manicure bar out in their butterfly-decorated reception area, dedicated to the art of nails.
Fancy heading that way yourself? French Beauty is located at 30 Castle Street, Dublin 2, 01 675 2020, www.frenchbeauty.ie