 Not too sure about how to create a dramatic eye look for the Christmas season? Well, wonder no longer - pro make up artist Lyndsey Cavanagh has let us in on how to get this smokin' hot smokey eye. It's beginning to look a lot like #GlamHour. 
A sweep of intense colour across your eyes is the perfect party trick and using strong, bold colour is the key to achieving this look which adds brightness as well as depth to your eye make up.
Follow these steps to get the look.
Begin by gently massaging a little Olay 3 Point Super Treatment Cream onto clean skin.  This moisturiser is lightweight and easily absorbed in just a few minutes. To increase the longevity of your make up products and smooth the surface texture of your skin apply Max Factor Facefinity Primer over the centre and across the contours of your face - just a light veil of primer is sufficient.
Now you have the ideal make up base, you can begin applying Max Factor Miracle Match Foundation. Start with a small amount of product and blend it well using a large synthetic face brush. Next, apply Mastertouch All Day Concealer in a cool shade such as 'Ivory' to the under eye area and to the eyelids as a base for shadows. Use concealer on any areas of the face where you may find natural shadows such as between the brows, smile lines and around the mouth and chin to give an illuminated look to the skin.
Add depth and a little extra length to your brows with Max Factor Eyebrow pencil in a shade lighter than your natural brow and comb through to soften and give a tailored look.
Advertised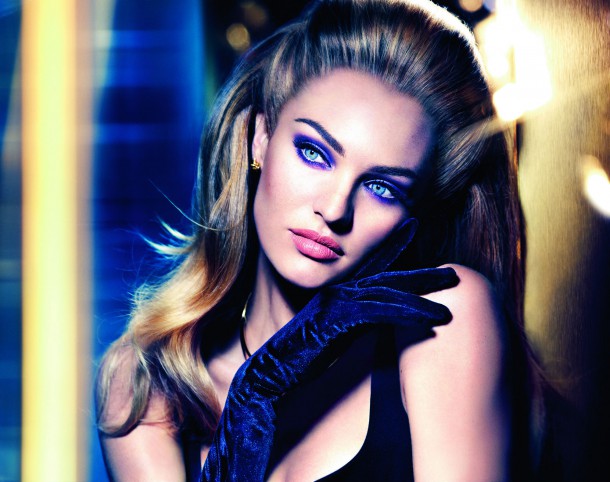 Using a dampened eye shadow brush (a small smudge or a flat headed brush is ideal) apply Max Factor Wild Shadow Pot in 'Sapphire Rage' to the upper and lower lash line, wrapping around the entire eye. Then repeat this step using Max Factor Wild Shadow Pot in 'Vicious Purple' gently pressing the purple over the sapphire to create an intense band of colour that wraps the entire eye area producing a wide and bright-eyed effect. Sweep a soft eyeshadow blending brush around the edges of the shadows to soften and diffuse the colour outwards. For definition, apply Max Factor Masterpiece High Precision Liquid Eyeliner pen along the roots of your upper lashes - you can do this easily by using the side of the pen tip and gliding it along your lash line. Alternatively, use the tip of the pen and apply small dots of liner between the roots of your lashes to gradually build definition.
Finish the look with a generous coating of Max Factor False Lash Effect Mascara to both the upper and lower lashes. Keep on coating until the desired effect is achieved as this mascara will allow lots of layering without clogging due to its creamy consistency.
Sculpt and enhance your cheek bones by blending Crème Puff Blush under and along the bone, beginning at your ear and blending across your cheek area towards the tip of your nose. Allow the product to build a little and ensure that you blend and soften the edges whilst keeping the majority of the blush close to the cheek bone and softened out at the cheek area.
For this look keep lips neutral and subtle by applying  Max Factor Colour Intensifying Lip Balm in 'Exquisite Caramel' which adds a touch of colour and a balmy finish.
Want to get the look down to a tee? Well, we are giving away ALL of the products we used to create it to one lucky reader! That's a beauty kit worth over €150!
Advertised
Keep your eyes on the Twitter machine - to be in with a chance of winning all you have to do is follow us and RT the #GlamHour tweet. Good luck!